The Northern February red stonefly has its global stronghold in the Scottish Highlands and has only ever been found in two rivers outside Scotland – the River Usk in Wales and the Wye near Hereford, where it is now thought to be extinct.
A recent survey of rivers in the Cairngorms National Park aimed to update what is known about the internationally significant population there.
Fieldwork recorded Northern February red nymphs in the main stem of the River Spey from Newtonmore downstream, while adults were recorded at Kingussie, Boat of Garten and Grantown-on-Spey.  Previous records also exist from the River Dee and its tributaries.
A report on the survey, jointly funded by Scottish Natural Heritage, the Cairngorms National Park Authority and Buglife, confirmed the importance of winter sunlight to the species.
The elusive insect is known to enjoy 'basking' on fenceposts along the river banks – and spotting them in the act has been identified as a useful survey technique.
Volunteers have used the method to identify adult Northern February reds further afield on the River Dee at Balmoral and at the River Conon near Marybank – the first record of this species on the River Conon.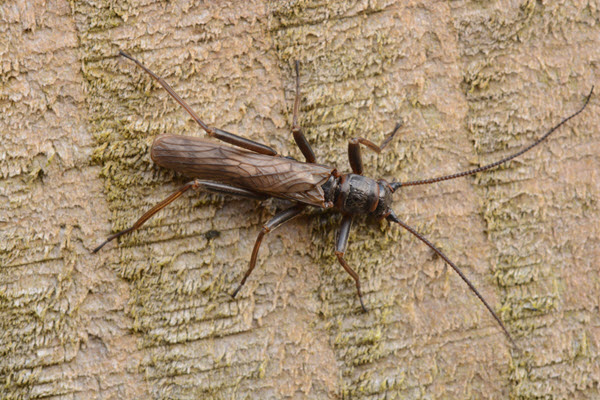 Get involved
Now, members of the public are being urged to get involved to help shed light on the wider distribution of the species and their behaviour.
Iain Sime, SNH freshwater and wetlands specialist, said: "The Northern February red stonefly is a fascinating insect that lives as a nymph underwater and emerges as an adult to mate and disperse.  While the nymphs can 'go with the flow' and migrate downstream, it is the adults who can complete the return journey.
"We'd urge anyone who is out and about near rivers to keep a look out for evidence of the adults on sunny fence posts where they like to bask.  They are distinctive with three dark bands across their wings.
"With the help of volunteers we are already beginning to understand more about the range and behaviour of the species, but with more spotters – whether they are anglers or local residents along rivers in the Highlands – we would be able to gain a better picture of their distribution and habits than ever before."
Craig Macadam, conservation director with Buglife, said "Stoneflies need clean, cold water which makes them important indicators of good water quality, but climate change means that some species are under threat.
"Discovering a new site for the Northern February red stonefly on the River Conon is fantastic. By getting more people spotting stoneflies we can start to fill in the gaps in our understanding of where the Northern February red stonefly lives, which helps with planning action to help this species to survive."
Dr Sarah Henshall, conservation officer at the Cairngorms National Park Authority, said: "The Northern February red stonefly is a priority species in the Cairngorms Nature Action Plan. It is a great species to look out for at this time of year.
"Anyone out enjoying the sunshine in the National Park over the next month or so should keep their eyes peeled! Your records are vital to increase our understanding of the distribution of this special species across the National Park."
Members of the public can get involved by taking a picture of the stonefly and sending it to scotland@buglife.org.uk or tweeting it to @buglifescotland. More information is available in Buglife's survey flyer