News and events
NBN Conference feedback
Thank you to those of you who completed the NBN Conference feedback questionnaire.
Your comments are very helpful in assessing the format of the annual conference and in helping us to plan subsequent events.  The responses (given by just under a third of attendees) are shown below.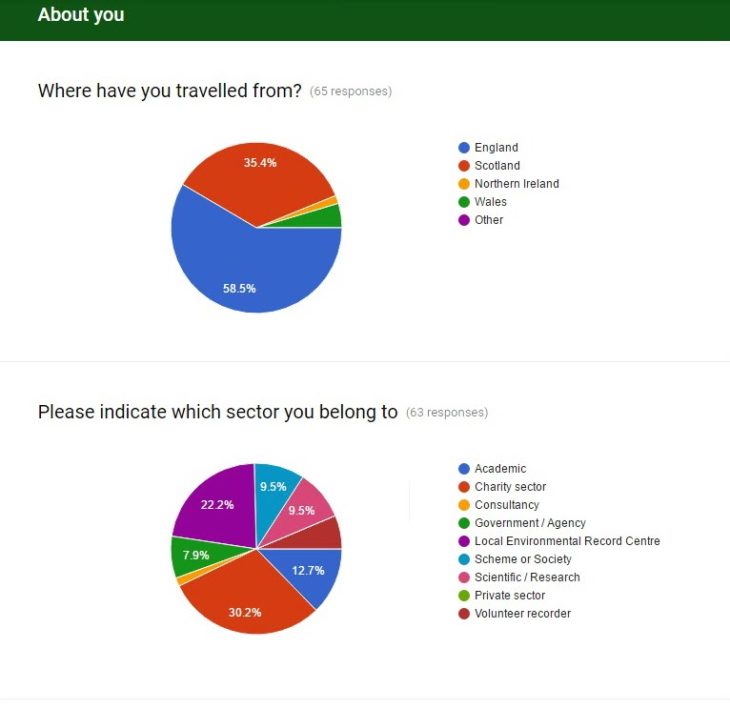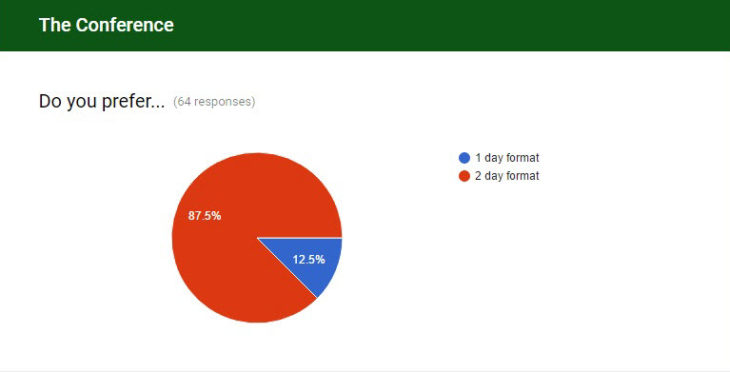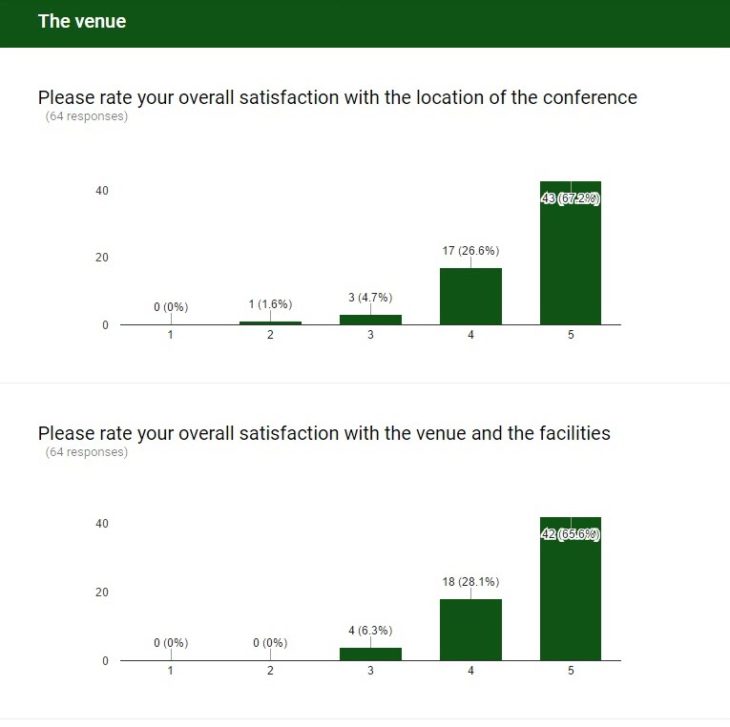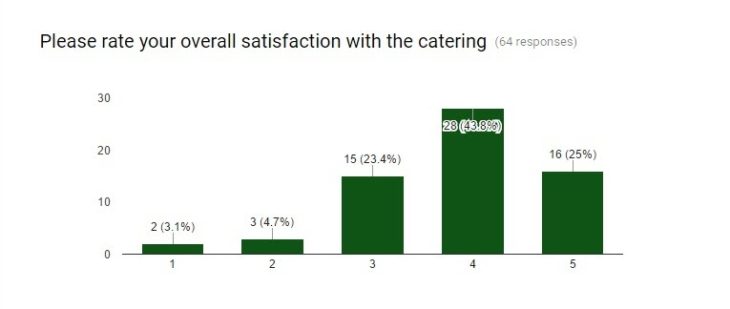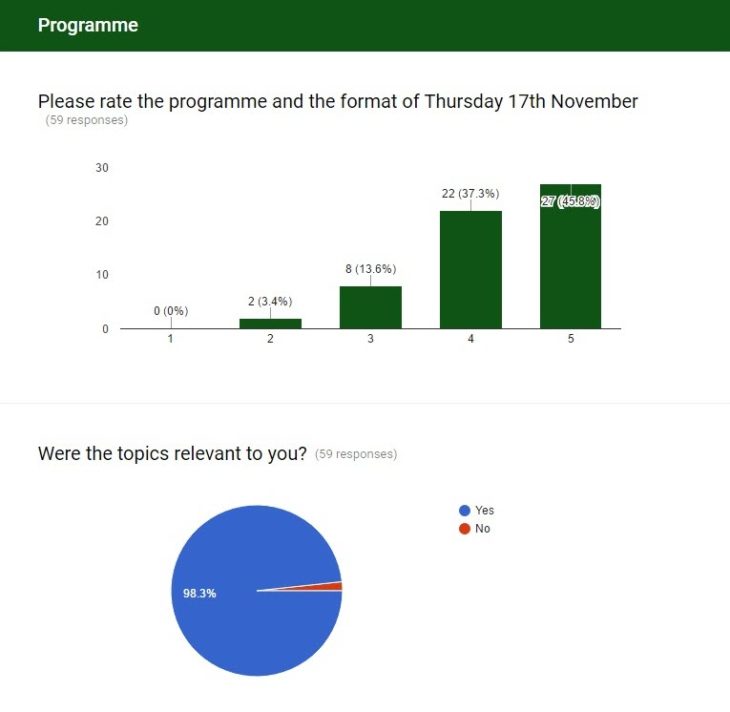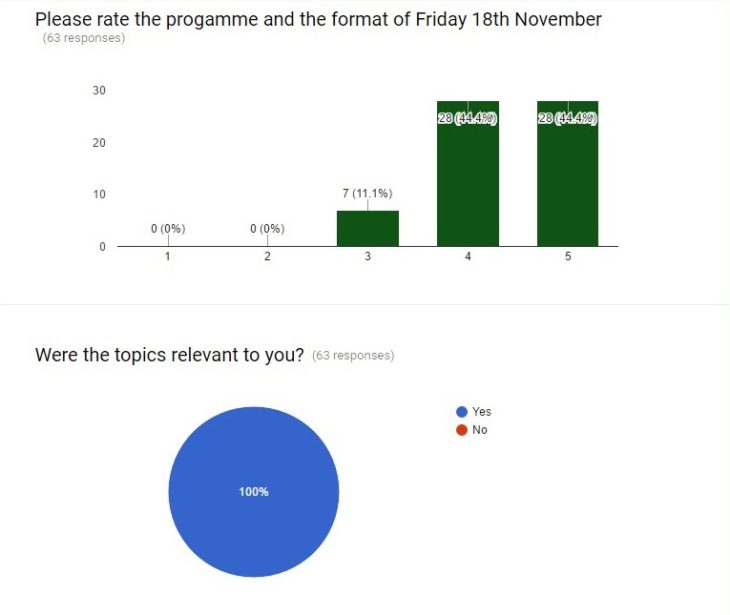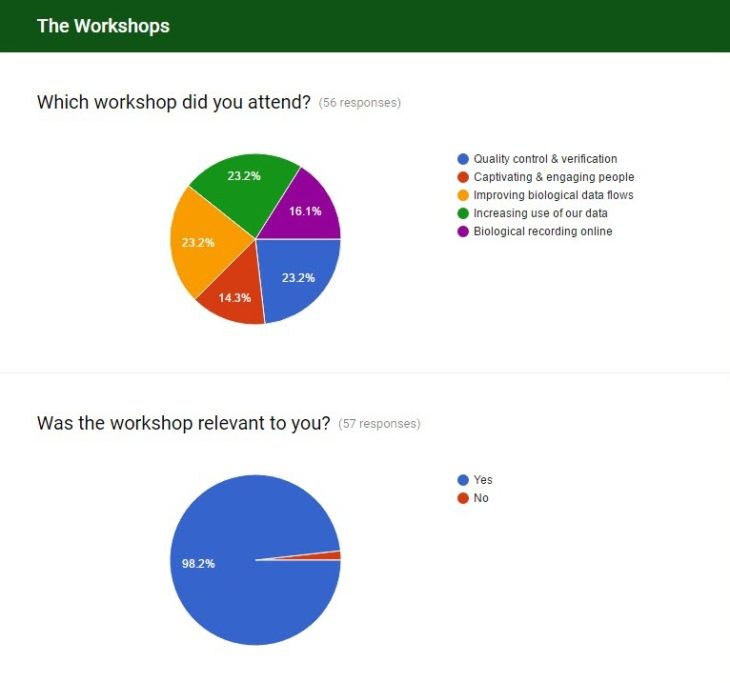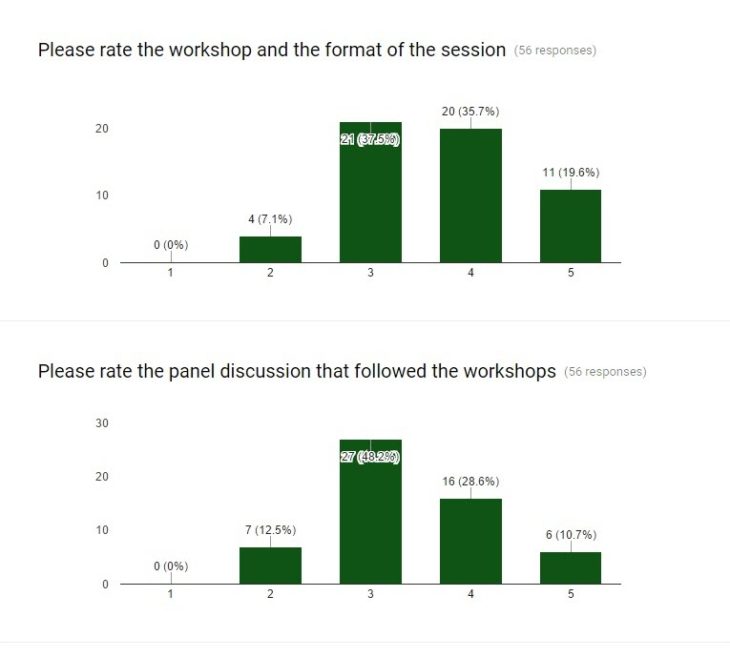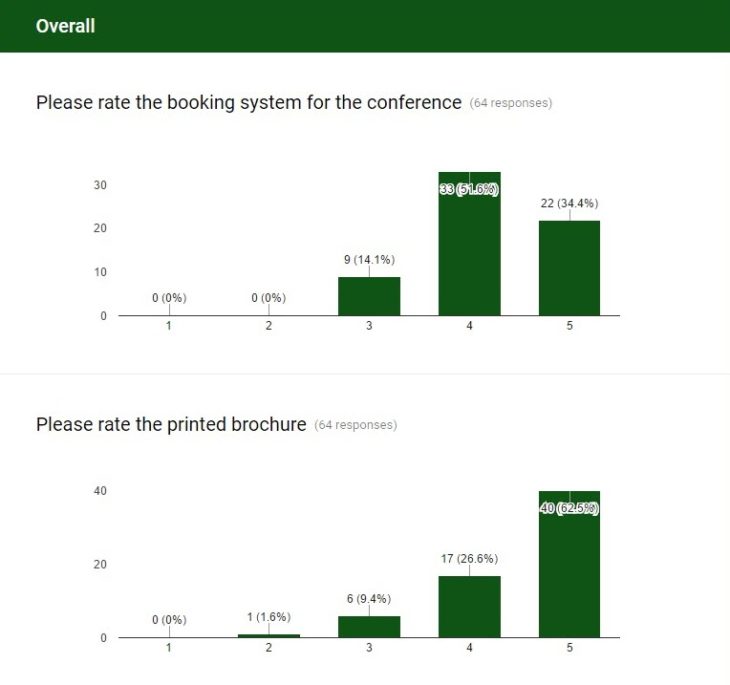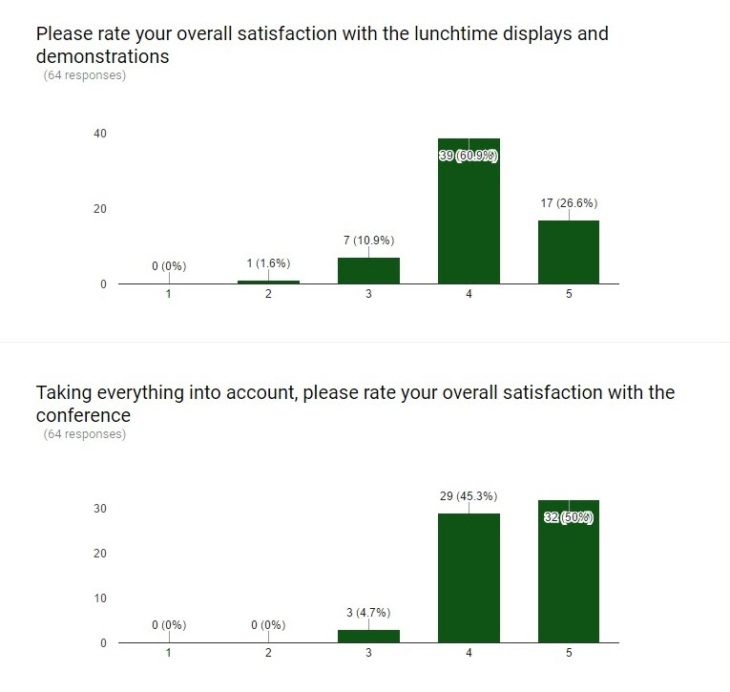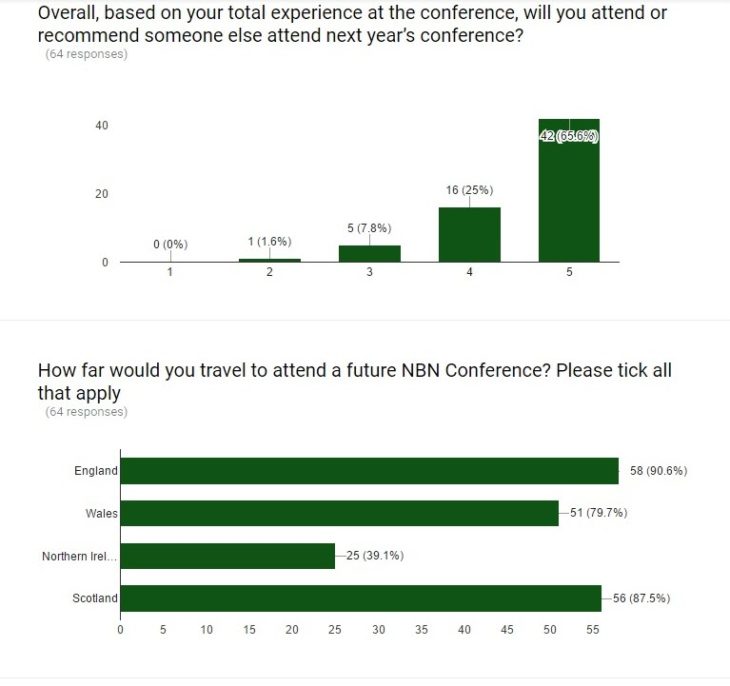 In addition to the prompted questions we asked for specific comments from delegates.
Here is a cross-section of comments received by topic in relation to the NBN Conference.
Timing of sessions / overall structure
The overall feeling was:
Two days works well; Timings and length of talks is about right; Good to have some speed talks and longer talks; Allow even more time for Q&A
I thought that the timings / duration of each session/break was very good. The only thing I remember that was slightly rushed was some of the questions. Perhaps more time for questions could be allocated.
Some presentations felt that they had a bit too long duration. Q&A sessions worked well. Tea/coffee breaks were well timed
Good overall structure, good to have plenty of time for breaks/networking
A little early on the first day for first trains. Talks perfect length – and presenters kept to time
4:30 finish meant very late nights for those travelling significant distances.
More time for Q&A would have been good. Queues for tea, coffee and lunch too long.
Timings worked well, with breaks allowing time for networking as well as comfort break! The variation of lengths of presentation worked well too, from the more in depth to the brief overview
Think there should have been time for questions after every talk, don't think there was enough time for questions overall. Would also be good to video the presentations and put them online so more people can see them.
Both days were a little too long, as so much information was being provided, felt brain fuzz before the end of day 2.
I thought that the timings and duration of presentation were good – this allowed for a range of complementary and relevant topics to be presented.
Breaks were fine, they gave lots of opportunity to review the displays and to network. No preference on length as I have not attended a previous conference, but I felt that the two days were well filled, interesting and good value for money.
Just about perfect this year – plenty of time to chat and get refreshments but lots of good talks. The only issue was having to leave before the conference finished on the second day.
It seemed to be a very good mix of sessions and timings were ideal
The timings were great – talks not too long, and breaks long enough to usefully catch up with other delegates. The days were quite long for a two-day conference
The timings/durations of the presentation sessions and coffee breaks were well balanced. Talk sessions were no longer than 1.5 hours at a time, which was good for not losing concentration or getting uncomfortable! Coffee breaks and lunch were a good length and well-spaced throughout the day. Probably the best presentation: break ratio at a conference I have experienced!
I only attended on Friday but thought the timings were spot-on. I prefer a 2 day format because there isn't time to catch up with everyone in just one day. However, I couldn't really spare two days due to other commitments and I thought the talks on Friday seemed more interesting.
A few too many talks, particularly on Friday. Hard to concentrate so much, though the two day format makes the event more relaxed and offers more discussion time.
I thought this was very well done, with a good mix of different talk lengths, workshops and breaks for networking
The 2-day format works very well and I think the timings of all aspects worked very well too (the workshop could perhaps have been a little longer).
Programme / speakers
The overall feeling was:
Need more to engage national schemes and societies and volunteers; wider taxonomic coverage in the presentations is needed; more marine needed; more LERC representation; more on the NBN Atlas
Very interesting and informative topics presented and discussed as always. Very pertinent content; hopefully by next year with the outcomes of the SBIF Review we'll have more thoughts on tackling the issues on a large scale as we can all agree the problems are well discussed!
I found this year's talks a lot more engaging with a good mix of speakers from data contributors, collators and users.
Good to see a lot of references to iRecord and Open Data. Very encouraging to hear about national recording schemes being set up and run by younger people.
Would just like to see overall programme be more joined up. Longer, more useful workshops and opportunities for others to speak.
There was not a huge amount, which would have turned on the average natural history society volunteer.
Too many insects, something on botanical or fungi recording would have given a different perspective
More consistent theming. I would not have given so much time to NBN bits. Michael Hasell/Jo Judge could have summarised progress since last year and latest consultations including membership scheme in 20 minutes.
Programme not as interesting as 2015. Less of a buzz about the conference. Great location and good venue though.
Too many speakers and content becoming repetitive
Quality of speakers has improved year on year for several years now.
Limit all talks to 20 minutes. 5 minute talks were also good.
We really could have done with discussion time on membership and hidden data
More on the NBN Atlas and the transition
More talk about the atlas and the next steps for the NBN would have been useful, it was a bit crammed in last minute.
I would have liked more forward-looking discussion of NBN action plan.  And I would have liked more information on the architecture and data structure of the NBN Atlas. Nice to see the front end, but need more info on how data management will work, and processes in place for ensuring data quality.
Morning was good/focused. Afternoon (using data) section was rather narrowly focused on NBN web tools. It could have had a much wider view of how data is used across the network (e.g. keep the academic talk, had just one talk on the atlas (or two if longer session), had a talk from an LERC either covering multiple local uses or a couple LERC talks covering e.g. designating Local Wildlife Sites using species data plus how local authorities use data; and some from national schemes e.g. how records fed into recent species status reviews. NBN has got much better at promoting network members in the first half of the "pathway" but could still do more understanding and promoting network activity in the second half of the pathway.
Overall there was a lack of structure. It would have been better to have mini themes (and for Q&A sessions to follow each of these rather than individual talks or having everyone at the end of all disparate talks). For example, the Friday keynote was terrific but seemed to have no link with anything else.
most but not all talks were from people with paid jobs in the sector. It would be nice to have more biological records speaking who are not paid in the sector and get their views on being a volunteer recorder. Perhaps paying travel and subsistence for a couple of people to allow them to come?
I would have liked a little bit about how the NBN was tackling the data licensing issue.
This would have been the opportunity to include more focus on output, i.e. use of Gateway data.
In the overall programme it would have been nice to see more marine biological topics and issues. There was a heavy bias on entomology and terrestrial invertebrates.
I would rather get NBN business out of the way on the first day. If I had been paying for myself to attend the Friday afternoon programme wasn't exciting enough in its own right.
Bit surprised not to see a live version of the NBN Atlas Scotland as one of the displays. Felt there could have been more detailed discussions around this. Also didn't really feel the 'theme' of data flow was really achieved as a theme; talks weren't all that focused on data flow. But this didn't spoil the event.
Could do with some longer but interactive sessions to alleviate the talking heads
Perhaps session Chairs could do more to clearly introduce the session theme at the start and summarise at the end to bring everything together.
The only slight negative was the criticism of an LERC during the keynote, and the misrepresentation of the open data sector in a couple of the talks. I don't know what the answer is, but maybe some guidance for speakers would be useful
More on management of taxonomies and the framework of the technical gateway itself would have been good
Wider range of taxa and a slightly higher proportion of experienced presenters – it was really good to see the next generation being encouraged but I'm not sure the balance was quite right…
Some fresh air time built into the conference, even just 30mins of biological recording/ chat would be good to break up all the indoors.
It was very biased towards entomology – I appreciate they are a committed bunch but the rest of us would appreciate some air time too.
Workshops
The overall feeling was:
Some people thought the workshops worked well, others didn't; they could have been longer
The size of the conference meant that the workshops were too big. It would be better (on a two day event at a suitable venue) to run them in parallel with smaller after noon talks (Students. local nathist socs)or possible more interactive sessions or demos (Step forward the Atlas!)
Workshops should ideally be run over 2-3 hours and have a very clear agenda and set of goals, ideally preceded by discussion via the NBN Forum. The NFBR Conference session to review and refine the NBN Data Sharing badges provides a really good model. [It would even be a good thing to have a workshops day at BES/Linn Soc with 6-10 topics covered over the morning and afternoon].
Apart from a few odd suggestions (Establishment of a Technical Working Group), I'm not sure that this year's sessions did much more than pass the time.
Workshop important we need to be further melded into one voice
Workshops could have been a little longer
I wondered what the value of the workshops was. It seemed that we were answering the same questions that frequently get asked at events like this, and the answers to the questions were largely the same. The talks were good. Given the upcoming replacement of the Gateway by the Atlas, I was surprised that there wasn't more time for questions and discussions about this
The workshops were disappointing, I thought I was going to learn more about my topic, not have my brains picked.
The workshop was a good opportunity to explore one theme in more detail – again it was a good length. Would have liked more input. Perhaps via a second workshop.
Workshop timings or organisation meant that there was not enough time at the end after reporting back to come to a consensus in regard to tangible actions to take forward.
The discussion afternoon again the most disappointing part because it is unreasonable to expect the leaders to have a polished feedback. I was pleased with the one I contributed to and hope my views will be reported, presumably anonymously but I have no idea really what went on in the other sessions. Having space under each speaker to make notes in the conference book is excellent and if there was a good space for notes as the session leaders spoke it would have been very useful.
It would have been helpful to know that the workshop was more about contributing than learning, other than that, really great format
The workshops didn't seem fully integrated with the NBN working groups (I was in the data flow workshop – interesting, but did it move us forward?)
Don't like the workshops, they are always dominated by a select few and the reporting back is always selective. That first afternoon was really tedious. Ditch the workshops and a few talks to compress the conference into 1 day.
Workshops a bit 'same-old, same-old'. Same issues brought up year after year with very little progress, but I suppose that's not the fault of the conference! And I guess it's useful for the younger/newer members of the community to have a chance to get engaged in these issues.
Though the topics of all of the workshops were highly relevant, I do not feel we gained much through discussion and the workshop itself. It felt a little like talking about things we have covered many times before. The attempted focus on identifying actions was a good idea, but it's always going to be hard to get people to commit to doing something there and then.
I think more time could have been granted to the workshops, given that fact that it took a while to walk to the rooms on the other side of the museum. In the end we did not have enough time to sum up our findings, which was a shame.
Gathering attendees for the workshops was chaotic – in future (a) don't all depart from the same meeting point, (b) hold up prominent numbers so that delegates know who's leading us which workshop; Never convinced that this type of workshop is very useful – they provide an opportunity for folk to grumble about problems, but how often do they produce a genuinely original and workable solution to anything?
Personally I don't find workshops very useful so unless likely to be effective outcomes from them, I would drop them, which would make it easier to condense future conferences into a one day event, but I realise that workshops can be popular with some.
How would you like to see the workshop outputs summarised?
Initial write up and headline summary shared with the working groups and workshop participants to encourage next steps.
Short written reports
Short written up papers, with prioritised actions where appropriate.
I would like to be kept up to date with the actions that came about as a result of the workshop.
Electronic summary
Perhaps we should assign responsibility for carrying these forward to the convenors and attach a fee for this?
In publicly available format on the NBN website.
I'm not sure anything was said that could be acted upon
Have a tool within apps that is location based and feeds into the local record center automatically, i.e, any app that records Ayrshire as a location, automatically feeds the record into the Ayrshire records center. A big ask I know!
It would have been good to have the feedback later once the leads had more time to collect their thoughts and notes. Perhaps even first thing the next day.
To be fed in to SBIF REview
I would simply like to see it progressed. I know these things move very slowly, but we do keep having similar conversations
The formation of a technical working group seems logical as was discussed
That it does progress and that we're not talking about it again at the next conference!!
The same topics seem to come up over and over again, namely lack of verifiers, lack of funding, data licencing issues etc. Progress has been made on these, but can a defined way forward (or research into possible options) be agreed to address these reoccurring issues?
Through the working groups.
It would be good to see the outputs written up and available online – perhaps as part of the conference review – and for this document to additionally comment on what is next eg will outputs be taken to a particular working group for discussion / prioritization /action.
Due to limited time not many of our points made it out in the summary or subsequent discussion. I think this limits the value of contributions through the session. Though i appreciate further write ups and consolidation of the work was still to be carried out.
Action plan from workshop taken forward or integrated into NBN workshops and taken forward through these. Some tangible products or web resources from the workshops would be useful
More data to be publicly available at full resolution and more recording scheme to work with NBN.
Objective write-up of flip-chart sheets from the sub-groups shared on the conference page.
list of actions with time lines attached that can be realistically achieved with the resources available.
I'd ideally like more concrete decisions or action points to result from the workshops. As they were they were good places to debate the issues but we debate them all the time and I think most problems are known about but we need ideas on how to overcome them and real actions to result.
I'm aware that the experts whose input we need are time poor at the moment, so my answer is unrealistic in that I'd like to see the working groups working.
It would be good to see a summary of these on the website and for these ideas to contribute to the NBN's work.
Real action to progress the findings of discussions
I don't think that the outputs of the workshops should be progressed since they are skewed and not fully representative. We should all be consulted on all of the workshop themes for a more representative viewpoint on all topics.
Be incorporated into practical action.
Any progress would be nice, as workshops often seem to result in no actions.
Printed programme
Conference brochure point-size rather small, especially when trying to read programme in a darkened auditorium;
I'd find it more convenient if delegates were listed primarily by organization, rather than personal surname;
I really liked the conference programme which had space to write notes next to each speaker.
Venue / location
Excellent to have conference well away from London;
Rooms for lunch and coffee are always too noisy, I can't hear what people are saying. Using more than one room helps.
I think it was great having a location that was easy to get to. It would have been better if the conference hadn't finished on a Friday, as it meant I had to leave early to get home.
A more central or better connected location is needed. More efficient organisation around moving between sessions and providing lunch.
I don't feel the stands got much engagement, but I'm not sure how that could be improved.
The displays were a welcome way to gain insight into a range of schemes and projects taking place.
Better vegetarian lunch option. That's all!
My only issue with this year's conference was that the seating was extremely uncomfortable for tall people and there were not enough seats during parts of the event, particularly on the last day when the back rows were filled with luggage.
Difficulty in having posters upstairs and downstairs – felt there was no "through traffic" for our poster display and hence staffing it was superfluous.
Cost
I felt that the two days were well filled, interesting and good value for money.
I was looking forward to this event until I realised the very high fee. Nobody is paying this for me as a volunteer recorder and I could not justify the expense of attending while paying out of my own pocket on top of using annual leave to be able to attend. In terms of encouraging public engagement I'd say this counts as a failure. The fact that it was even more expensive to join NBN first and then pay to attend, is remarkable. I'm a daily user of NBN and supply thousands of records annually, but I feel that this conference was really for professionals only.
2016 Conference versus previous events
This one was very memorable. The last conference I attended was in 2014, so I felt a big achievements had been made and generally greatly improved.
Similar to York, but venue better compared to potential accommodation
As good as York and better than London
Both excellent.
Better – this was the first 2-day conference I've been to and it was much better with room to breathe
I attended the previous one in York – this one was better as the location was much easier to get to via public transport.
Probably the most useful I have attended. The others were always interesting but I got a lot out of the workshops and made some good contacts at this one.
It's been quite a few years since I last attended. My recollection is that the previous conference was better attended by small schemes/ recorders. At this event, schemes were only represented where they had some kind of connection with a larger organisation.
A bit better than previous ones – can't imagine a better balance of timings but I think food at previous conferences was better.
I've been to most / all of them and it was the best for human interaction
I think this conference worked well in comparison to others, it was a nice venue and there were plenty of interesting stalls.
Probably better format than pre 2015 ones, but the content lacked much focus on what data is actually being used for.
As good as previous ones.
Only previous attendance was in 2015 – this year timings, space, location etc. were better but the programme was less diverse (and therefore less relevant to me)
Suggestions / comments for 2017
Programme / topics:
Perhaps some more marine-themed talks and other marine organisations represented
For next year – the final verdict on the verification question
Funding and training could be themes of future conferences.
iRecord, Record Cleaning, funding sources and revenue
It would have been good to have an open data expert from another sector there to introduce the concept. A couple of the speakers weren't clear on what it means for the Network and the challenges it brings
How iRECORD is developing
Mobilising data from museum collections.
Making use of and sharing data – lots of focus on collecting it to date
Representation from State of Nature Team, Defra, Natural capital
LERCs and how they CAN sustain a business model based with an OPEN DATA NBN
It'd be great to hear plans for the future of the Network and how all the constituent parts fit
NBN needs to design a conference, which will appeal to local natural history societies from whom we have heard little over the last few years.
Provide a box/bucket or something for short speakers to stand on behind the podium; When a presentation finishes, leave the last slide up long enough for people to read it;
More marine-themed presentations and marine organisation/group representation please.
Perhaps have several short workshops and break out groups
More info into where we are planning to go – we should have a motivating and inspiring valedictory comment from the top for next year when we have a clearer vision. Keep Michael in the chair – he is the voice of authoritative reason!
BSBI – I'd love to hear how the BSBI Field Identification Skills Certificate works and what they've achieved.
Hoverfly Recording Scheme – using Facebook to generate records.
A Focus On Nature – I think they should speak, on a different topic, every year to highlight the importance of engaging with young naturalists and the expenses should be covered to overcome the cost barrier.
British Entomological & Natural History Society – they now have BMIG, BWARS, Dipterists Forum and the Earthworm Society of Britain as affiliate members and work with them to deliver training to their members, a model that I think should be shared.
Natural England – PANTHEON
Zooniverse – gave an excellent presentation at the Mammal Society symposium, it was given by a physicist about galaxy classification and then lead into biological recording applications and I think it's really underused for UK projects.
I would assume that the next conference will have a bit more direct focus on the Atlas and how it is being used and what developments might be required/desired. This could be a workshop focus.
Once the Atlas comes on line, what about branching out to potential app developers/ educational institutions providing software development training? I'd prefer the Workshops were more relevant, or not have them. I was at a conference earlier this year, where the programme was only available online/ through an app. I'm not sure how the cost would compare, but there would be less waste.
More workshops
Maybe something from the more general users of the NBN Gateway who download data e.g. for land management, education, student projects etc.
It's good to discuss the NBN's vision and aspirations; but we also need to be able to have sensible conversations about why things are the way they are, and what practical steps can be taken to move towards that vision.
As this conference was mostly focused on Record & Collect and Quality Assure, a future focus on Aggregate/Analyse/Use might be good; that doesn't mean filling the programme with academics and country agencies but rather staff from bigger NSS and LERCs plus smaller NSS and amateur naturalists (fascinating work done by recorders gets published in NSS journals like Dipterists' bulletin, local natural history transactions/journals etc that rarely gets shared more widely or in a conference setting). The next conference could also be more taxonomically balanced – I love invertebrates but flora/vertebrates also important and recorded widely. Something on site and habitats rather than just species records would be welcome.
The challenge of moving to the Atlas and losing access controls etc on the Gateway means the next conference will be crucial in maintaining engagement with data collectors and aggregators, so they continue to buy in to the NBN concept of working together to increase our collective knowledge and understanding of UK biodiversity.
Anything that aligns with the SBIF REview and NBN Strategy
I would continue to look at hot topics and see if you can get speakers for them e.g. data licensing. Verification sessions very good but would have like one on iRECORD
Just need to get those people who are successfully using the data to have a greater platform. This could mean more academics, country agency people or anyone else who is using the Gateway.
I would like to talk about how we adapt, individually and as a community, to the changing financial and technological landscape. I think it would be beneficial to discuss this topic with a very open mind and look at examples from other sectors and other countries.
My main plea is for more diversity in topics (plants, other invertebrates, birds & mammals etc.) – it felt extremely entomology biased. From a personal perspective I would like to see more contributions from the marine sector.
Venue
It would be good to have a well-organised two-day session in Wales next year – providing there is ample material. More time for workshops should help with that.
South Wales would be nice for next year.
Loved Edinburgh, but would be great if there was one nearer to the SW.
A more central or better connected location is needed.
Location is not too much of a problem as long as it is within reasonable distance of a train station. Northern Ireland could put a stretch on our travel and subsistence budget.
I would definitely put a case to attend future conference wherever it may be, though the cost of travel and accommodation would be a consideration. Holding it somewhere that is walking distance from a transport centre such as a major train station is very, very useful, as it may give the possibility of travelling down and back on the day rather than paying for overnight accommodation. This year worked well; though the venue last year was great, getting there was expensive and time consuming when factoring in travel from York.
Probably good to not be in an amazing museum that distracts you via its exhibits at the lunch break – it's good to be forced to network as it's not a lot of people's natural disposition!!
Please think about coming to Northern Ireland
A city centre location close to transport links is ideal. Due to my role I would struggle to justify travelling out of Scotland to attend a future conference, but feel that moving the conference around the UK gives a wider range of stakeholders an opportunity to attend.
It makes sense to have the next one in Wales I think – Cardiff
I think a location further south would be good next time – Oxford or Bristol maybe? I know the conference used to only be in London but the last 2 conferences have been in the north and this is quite difficult to get to for a lot of people in the south.
Cardiff NMW would be good
Justifying 2 days away with accommodation is difficult for most people. Any future location should be very easy to get to by rail or plane from most of the UK with no additional follow on travel such as the York conference. The Edinburgh location was ideal.
Attendance at any of the suggested locations would depend on ease of travel from where I am e.g. northern Ireland would be great because you can fly there by EasyJet, whereas somewhere apparently nearer but without good links would be more difficult/expensive. (I know we shouldn't be flying, but when it's £25 by air or £200 by train, who wouldn't?)
Would love to see the conference come to Wales
You can read the feedback on the UK Awards for Biological Recording and Information Sharing on the Awards' pages