News and events
NBN Conference 2016 review
The 2016 NBN Conference took place on the 17th and 18th November.
170 delegates attended from the following sectors: biodiversity organisations, local environmental records centres, recording schemes, government bodies, universities and charities all with an interest in biodiversity data and biological recording.
For the second year, the Conference ran over two days and its bid to be accessible to people in all parts of the UK, moved to a venue in Edinburgh, namely National Museums Scotland.  The theme of the Conference was "Going with the flow – supporting the NBN data flow pathway" and the programme included Keynote addresses, 10 and 20 minute presentations, speed talks and a full afternoon of workshops. As usual, the annual Sir John Burnett Memorial lecture was given on Friday afternoon.
All of the presentations can be found on the separate NBN Conference 2016 page and the workshop summary feedback can be found on the Workshop page
You can still provide feedback, which will help us plan the 2017 Conference
Thursday 17th November
The theme for the morning session on day one was Recording & Collecting.  After the Chairman's welcome, the day kicked off with a keynote address from Sheena Harvey, editor of BBC Wildlife magazine on "Reaching new recruits".  This talk proved to be very popular with plenty of questions as she advised us all to make our stories "sexy and compelling" in order to capture the imagination of the media and the readers.
"Hope comes from involvement" says Sheena Harvey from BBC Wildlife Magazine in her keynote at #NBNConf16

A good reason to record wildlife.

— Sussex Biodiversity (@SxBRC) November 17, 2016
Next up was Professor Helen Roy of the Biological Records Centre (part of CEH) to talk about her beloved ladybirds within her presentation on "Challenges and opportunities for recording well loved species". Helen noted how the Ladybird recording scheme has changed from being just for entomologists to being for everyone. There was a nice mention of the NBN Secretariat's former colleague and Conference organiser for many years, Trevor James, who helped set up the Harlequin Ladybird online recording scheme. Helen's overriding message for success (the Ladybird recording scheme has over 200,000 records) was to communicate and promote, promote, promote!
'Huge spikes' in #ladybird sightings follow press releases – illustrating the importance of the media in engagement @UKLadybirds #NBNConf16

— Thomas Starnes (@bio_carta) November 17, 2016
Ro Scott, Chair of the Highland Biological Recording Group then spoke about the challenges of generating records from a sparsely populated area, where there have historically been large gaps in recording. 120 members are doing an impressive job, but long term funding is a concern.
Ro Scott inspires with phenomenal efforts of Highland Biological Recording Group to generate records from sparsely-populated area #NBNConf16

— Natural Sciences NMS (@NatSciNMS) November 17, 2016
Who knew that burial grounds provided the most significant habitat for yew trees in the world and are havens for lichens, species rich grasslands and many other species?  Harriet Carty of Caring for God's Acre told us that with over 20,000 burial sites in the UK they offer great potential for engagement as well as for running events due to facilities and accessibility.
@godsacre new HLF project will work with LERCs. Amen to that (sorry, couldn't resist) #NBNConf16

— ALERC NC (@ALERC_NC) November 17, 2016
Megan Shersby from A Focus On Nature (AFON) was next up to talk about "Young people, nature and biological recording". AFON is aimed at 16 -30 year olds, but has many members under 16. It's aim is to be a network for young naturalists who have the same vision of how they want the natural world to look in 2050.  This is really important for teenagers especially who "go off nature", whereas being part of a network shows you are not the only one. Using social media was highlighted as a major way of appealing to AFON members and encouraging young people to get involved in biological recording.
AFON's @MeganShersby is here to reassure us that there are young people interested in wildlife & biological recording #NBNConf16 pic.twitter.com/OttDYUfYNf

— GiGL (@iGiGL) November 17, 2016
https://twitter.com/BatGirlSteph78/status/799223574473146368
Following Megan, Wil J. Heeney of the National Longhorn Beetle Recording Scheme gave the first of the speed talks.  As with previous talks, and what would become a recurring theme, he highlighted what an important role social media has played in the success of the scheme and the number of records submitted. Wil was kindly sponsored to attend by Nottingham Trent University.
Fantastic activity of Longhorn Beetle recording on @iRecordWildlife – impressive increase in records and rate of verification #NBNConf16 pic.twitter.com/td0NhGcat4

— Helen Roy (@UKLadybirds) November 17, 2016
Krisztina Fekete one of the ID Trainers for the Future from the Natural History Museum, concluded the morning session by giving an overview of the project and how the skills she has learnt in a short space of time have already improved hers and the other trainees' skills.
ID Traineeship @NHM_London helped @Dasypoda77 up her number of biological records. #IDTrainers #NBNConf16 pic.twitter.com/BkfIl4wuQL

— Ashleigh Whiffin (@AshWhiffin) November 17, 2016
Lunchtime provided an opportunity for networking and visiting the 21 display stands, which is the most we've ever been asked to accommodate.
The afternoon session focused on "Putting the data flow pathway into practice" and the delegates split off into one of the five workshops that they had selected to attend when registering for the Conference.
Download the summary reports from each of the workshops.
With day one drawing to a close, thoughts turned to who the winners of the 2016 UK Awards for biological recording and information sharing would be, as preparations for the Awards ceremony got underway in Hawthornden Court.  Read all about the winners.
Friday 18th November
Day two gave a slightly sunnier and drier start to the day, with a few people getting ready for the talks by walking up Arthur's Seat beforehand!
Michael Hassell welcomed delegates back for the second day of the Conference as well as new arrivals. In the morning session on Quality Assuring, the first presentation was a keynote address by Professor Andy Purvis from the Natural History Museum, London, who talked about the PREDICTS project.  Here he talked about the amount of data from numerous sources and differing formats, which makes extraction time and resource heavy – something that is familiar to us all.
Turns out people hold their data in all manner a formats – a lesson from the #PredictsProject. #NBNConf16

We hear you brother!

— Sussex Biodiversity (@SxBRC) November 18, 2016
Craig Macadam of Buglife, and here representing Riverfly Recording Schemes, turned to verification. He highlighted that verifiers are not always appreciated by the recorder and yet verification can change a species from normal status to that of conservation concern.  An entertaining game of Guess Who brought the issue to life as Craig also showed the issues verifiers face and the importance of good photos.
Playing Guess Who at the #NBNConf16 pic.twitter.com/hwuA27mRzz

— Mandy Rudd (@mandy_rudd) November 18, 2016
Benefits of @iRecordWildlife, recorders can submit photos, but guidance is needed for how to take best photos for verification. #NBNConf16 pic.twitter.com/dncd3wDCp1

— Megan Shersby (@MeganShersby) November 18, 2016
Deb Muscat, manager at Cumbria Biodiversity Data Centre took us back to the early days of natural history societies and highlighted some of the challenges faced in mobilising historic data from museums.  In an extract from the 1902 Carlisle journal, Deb also showed a letter which includes four of the NBN's Strategic Aims – we were all ahead of the times!
Great talk from Deborah Muscat on the challenges of getting biological records from historical reports and museum collections. #NBNConf16 pic.twitter.com/UiqanKXgJI

— Katherine Whyte (@katey_whyte) November 18, 2016
The second of the ID Trainers' for the Future project, Joseph Beale, gave a speed talk about the need for identifying species correctly.  He gave an example of the range expansion of the Brown Argus in Greenwich from 100 years ago to now, which incorrect ID would not have shown.
#NBNConf16 @joe_beale 'the sheer joy and excitement of knowing what's around you' inspiring stuff.

— Sue Townsend (@SueTownsend3) November 18, 2016
Andrew Whitehouse of Buglife ended proceedings before the tea break with the morning's final speed talk when he highlighted the "Putting bugs on the map" project saying that the NBN makes the job of doing this easier.
https://twitter.com/SxBRC/status/799567336965488640
After the coffee break and more chance for networking, Ashleigh Whiffin of National Museums Scotland spoke about setting up the new Silphidae UK Recording Scheme.  Digitising and making data accessible online is a priority for this scheme, which is making a great start with thanks to iRecord for gathering data and social media for raising awareness.
Extracting records from museums important as there has been no scheme on #Silphids previously #NBNConf16 pic.twitter.com/1osdt1IF1B

— UK Carrion Beetles (@SilphidaeUk) November 18, 2016
Following on with the Quality Assuring theme, Martin Harvey of Biological Records Centre and Soldierflies and Allies Recording Scheme also talked about the importance of museums and collections and verification. He suggested that recorders and verifiers need to communicate more and to respect the roles they each have. He also said how rewarding mentoring can be through seeing people develop their skills
#NBNConf16 Wise words from Martin Harvey on the relation between verification and mentoring. Further support needed pic.twitter.com/xAs6wcH7JD

— NBRC (@_Northants_BRC) November 18, 2016
Esther Hughes of the Marine Biological Association then spoke about the history of marine data collation which led to the development of MaRLIN, and future development of open, linked data.
Esther Hughes of @DASSH & @thembauk on marine data flow and the successes of @MEDIN_marine #NBNConf16 pic.twitter.com/62UZT6p0RF

— Dan Lear (@DanLear) November 18, 2016
Andrew Wood, NBN Treasurer was next up and talked about the NBN membership review asking people to give their feedback on the current scheme which is deemed to be no longer fit for purpose. He explained that out of 160 members around 100 of them make no financial commitment. We need to have a better funding base.
We all need @NBNTrust to be successful. Each of us has a role to play in ensuring that success #NBNConf16

— Colin Campbell (@ColinHCampbell) November 18, 2016
Rachel Stroud of the NBN Secretariat then took us on a historic tour of biological recording and the start of the NBN.  Through quotes and reports, she demonstrated that we've come a long way, but many issues still remain today.
Looking back to origins of @NBNTrust (& @ALERC_NC & @_NFBR). We've come far, but many same issues remain #NBNConf16 pic.twitter.com/fx1XOH2VaX

— Teresa Frost (@ZarFrost) November 18, 2016
With the morning session drawing to a close the question was posed as to whether we are letting government off the hook with regard to funding and also whether we could, or should, use the NBN as a lobbying power.
After lunch, the final session of the Conference took us to the technical side of the NBN Data Flow Pathway and using data.
Before the session got underway, Michael Hassell had the pleasure of giving Honorary membership to Steve Wilkinson of the Joint Nature Conservation Committee.  Steve has made a significant technical contribution to the development of the NBN which led to new opportunities for accessing or using biological records.  He has also made an outstanding personal contribution to biological recording through the Conchological Society of GB and Ireland and the mentoring of others.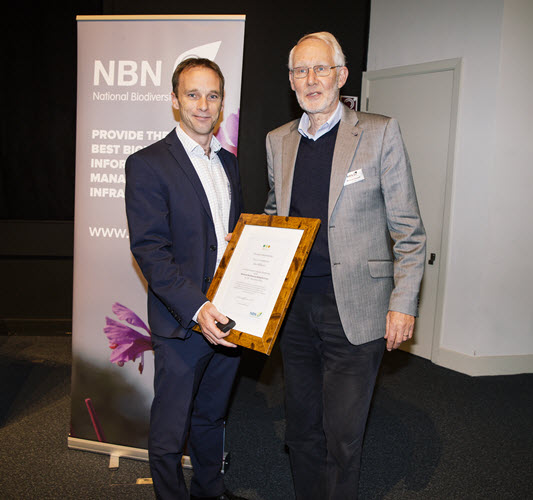 The first talk of the afternoon was the Sir John Burnett Memorial lecture which was given by Charles Godfray on "Systematics, biodiversity and ecology in the internet era".  In this he talked about human challenges and the need to engage the young and said that he was hugely encouraged by looking around the room as the NBN is getting people engaged. He highlighted that data access is still an issue and felt that there are very few reasons why data shouldn't be "out there", especially if data is government funded. He highlighted that the 21st century taxonomist is very different to the 20th century taxonomist as taxonomy has been redefined as a result of molecular challenges.
Sir John Burnett Memorial Lecture @kewgardens and @NHM_London key future of taxonomy science #NBNConf16 pic.twitter.com/I11t5dznB3

— Keiron Derek Brown (@KeironDBrown) November 18, 2016
Charles was presented with the Sir John Burnett memorial medal by The Earl of Selborne, following the lecture.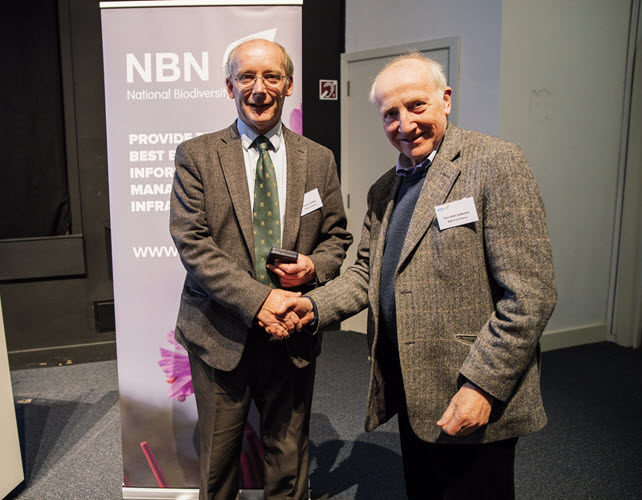 Following the earlier award of Honorary membership to Steve Wilkinson, Steve then took to the stage to give his presentation on the "History of the NBN Gateway". He took us back to the first iteration of the Gateway which came about in 2000 after discussions between himself, Lawrence Way and Jon Cooper.  At that time it held one million records. Today it holds just under 130 million.  As the amount of data grew so did issues with what the system needed to be able to do. This will see the move to the NBN Atlas in 2017.
The next generation grew up with internet, phones & expectation that all data is open accessible and available @SteveBWilkinson #NBNconf16

— Andy Clements (@_AndyClements) November 18, 2016
And so to Jo Judge to carry on the technical theme after Steve's talk, with her demonstration of the NBN Atlas.  Unfortunately technology didn't allow for a live demo, but well prepared slides ensured she was able to show the power of the NBN Atlas with a quick tour of its functionality, as it takes over from the NBN Gateway.
New atlas replacing the NBN Gateway sounds fantastic! Can't wait to try it #NBNconf16 pic.twitter.com/nxrZO9AHv9

— Sealife Survey (@SealifeSurvey) November 18, 2016
Simon Gibson-Poole, one of the students sponsored to attend the Conference by SSE, was next to the podium for his talk about "Using a drone to identify a giant herb".
Simon Gibson-Poole @SRUC PhD looking at giant hogweed using a drone in Manor Powis area. Only 2 historical NBN records… #NBNConf16 pic.twitter.com/yFFeue5FWq

— IFLI (@innerforth) November 18, 2016
With only three talks left to go, the last of the speed talks was from another SSE sponsored student, Zac Baynham-Herd, of University of Edinburgh with the intriguingly titled "Biodiversity on the Blockchain". In the talk he looked at how blockchain technology can help biodiversity science and improve data flow.
Big, sexy #biodiversity on the #blockchain courtesy of @ZacBaynhamHerd at #NBNConf16 pic.twitter.com/BnDqvdRfvX

— Sion Elis Williams (@sequencefree) November 18, 2016
In the penultimate presentation, Dr Jon Chamberlain talked about using social media to study wildlife. He talked about decentralised, trusted data which is what Facebook provides, with identification being carried out through an increasing number of Facebook groups in less than 8 minutes and giving 93% accuracy in a sample of images used.
Are people using Facebook and Twitter as the new @iSpotnature ? Almost instant identification is very gratifying to the user #NBNConf16

— Steve Blain (@steveblain) November 18, 2016
And finally, Gill Dowse of Scottish Wildlife Trust talked about "Navigating the NBN Atlas Scotland", which she says has inspired them to change the way they show data. They believe the NBN Atlas will save them time as users go to the website and are empowered to interrogate the data directly.  It will also encourage recorders to interact and share their data.  She feels that it will encourage the sharing of knowledge beyond the geeks!
@DataSWT explaining how @ScotWildlife staff, volunteers and contractors can access biological data using @AoLScot #NBNConf16 pic.twitter.com/kevX8M94yM

— Craig Macadam (@bugsymac1) November 18, 2016
And so the NBN Conference was over for another year as Michael Hassell thanked the sponsors and speakers and wished everyone a safe journey home.
We are still compiling feedback as it comes in, but the general buzz around the event and comments received on the two days were very positive.  Twitter was incredibly well used with the #NBNConf16 bringing all the thoughts from the day together for those unable to attend. It was even trending at one point! Thank you to everyone who attended, presented and sponsored this year's event.  Here's to the next one!
Thank you to everyone tweeting from #NBNConf16 It's like I'm in the room. Brilliant engagement with the wider world!

— Barnaby Smith (@BarnabySmithUK) November 17, 2016
54 notifications and 14 new followers over one day. The power of @NBNTrust #NBNConf16. From the team (@Theponker @KatyPottsEnto) many thanks

— Longhorn RS (@NLonghornRS) November 18, 2016
Trending! #NBNConf16 pic.twitter.com/cXhIech4GH

— UK Carrion Beetles (@SilphidaeUk) November 17, 2016
Comments
Let us know what you think.
Note: to post as a guest type your comment then add your name under "sign up with Disqus" and click the guest checkbox.