Are you a Recorder 6 user? Would you benefit from improved support and new updates? Do you want to influence the future of Recorder and any replacements? If yes, the consultations below will be of interest and will benefit from your input.
Whatever your involvement in recording or biodiversity information use, you'll probably be aware of Recorder 6, the database system of choice for a range of national schemes and societies, as well as for most local environmental records centres. Recorder was originally developed as an MS-DOS program by Stuart Ball at Joint Nature Conservation Committee (JNCC). Recorder 3.3, the first version available for public use, is now in its silver jubilee year, whilst Recorder 6, which first appeared in 2004, has survived five incarnations of Microsoft Windows, and remains a vital tool in much of the data flow to the NBN Atlas and elsewhere.
Recorder 6's longevity reflects the quality of its database model but it is very much a child of its time and in 2013 the Recorder Steering Group (comprising Natural Resources Wales, Natural England and JNCC) announced that it was considering switching support to some yet to be developed online system. This was to be anticipated as a likely evolutionary step, and reassurance was given that:
If and when an integrated online data system is adopted within a plan for replacing Recorder, a full consultation will be run with stakeholders to ensure all views and concerns are considered and addressed.
With no progress apparent, and support funding being cut further, Tom Hunt, ALERC's National Coordinator discussed the future for Recorder 6 in a NBN newsletter article last year. In the event, no consultation occurred and, whether or not you were able to attend this year's fantastic NBN conference in Cardiff, you'll probably be aware that official support for Recorder 6 will end this financial year. Fortuitously, an independent consultation (co-funded by GiGL and SxBRC) has already been planned. Drawn up by GIS consultant, Andy Foy, it asks how different users currently employ Recorder 6; what features, capabilities and gripes are of most importance in their view; how they see it developing in the next few years; how much they might each be willing to contribute towards ongoing support and development costs; and more besides. It provides a welcome and important opportunity to contribute to guiding how Recorder 6 develops in new circumstances.
If you have information or views to share (by 1st January 2018), please do respond to the consultation. It went live in the week following the Steering Group announcement and, of 73 responses to date, 60 have been from existing Recorder users. There has been a good mix of individual and organisational respondents, although no official responses on behalf of any of the local or national recording schemes and societies as yet – something we'd very much like to change. If you belong to one or other of these, please do respond or encourage whoever the responsible individual(s) may be to do so. The better the representation across the Network the more useful the overall picture will be; not least in guiding future developments.
Proportion of Consultation Respondents by Category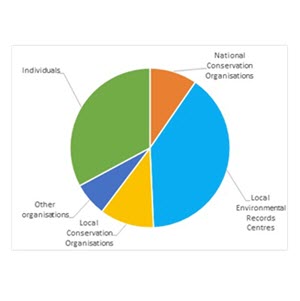 Of the 60 Recorder users who have responded to date:
54 are expecting to be using Recorder 6 to or beyond 2022 [90%]
48 consider that Recorder 6 to be very (12) or extremely (36) important to their activities [80%]
Only one individual considers that investment should be focussed entirely on some alternative to Recorder 6, with 50 [83%] split almost equally between opting for any funding to be used for Recorder 6 alone (26) or in combination with the development and support for an alternative/successor system (24).
47 (87%) are prepared to pay a fair annual (support) fee, with opinions as to what this might be ranging between £10 to £50 for individuals and from £50 to £500 for organisations. This is important because Recorder was offered on the basis of a one-time fee (£25-50 depending on the reseller) would include all future updates, bug fixes and basic support needs.
Apart from the encouragement to local and national recording scheme/society organisers to submit their views, the immediate messages are that existing users think that there is a need for support for and development for Recorder 6 to continue, and for this to be at a higher level than in recent years.
The very good news on this front is that a mystery benefactor has announced that they will provide funds to continue support via the Recorder 6 consortium (Mike Weideli, Sally Rankin and John van Breda), albeit at a lower level, through next year. This will at least give breathing space to develop a plan for a more sustainable approach for the ongoing support and development of Recorder 6.  Huge thanks to them and to everyone who has helped to publicise and/or responded to the consultation so far.
It is worth noting that there are concerns that lack of development with Marine Recorder may result in 'data fragmentation' as a result of users finding alternative solutions to meet their needs.  Such 'biodiversity data Babel' is something which all should strive to avoid.
Looking further forward – A future consultation
As regards any future online Recorder 6 or Marine Recorder successor, you may already have clear ideas about what you, others like you and the group(s) you work with need, either for getting records into an organised database, managing the database, providing on-demand access to data in appropriate form, or cutting the time it takes to tackle each of these.
Beyond just doing the existing job more effectively, and making it possible to access more data more easily, there is much that is already or will soon be possible that simply wasn't conceived of when Recorder 6 was spawned, back in the 32-bit heyday of Windows XP. (Just think about your 2004 vintage mobile phone!). An online system could make possible the much-discussed idea of applying Universally Unique Identifiers to records.
There are new information needs but why not develop a database system that helps recording scheme organisers to coordinate the activities of willing recorders or by highlighting strategic gaps in data and recording effort that otherwise undermine surveys or occupancy models. It's all very well arguing for evidence-led decision making if we are failing to ensure that the evidence is fit for the purposes required of it, whether in relation to local green infrastructure plans, national species recovery strategies or the joined-up monitoring of SSSIs, MCZs and Local Wildlife Sites.
As demonstrated by other database systems imposed on the intended users – rather than developed in collaboration with them to meet their needs; were never adequately resourced, which simply reinvented the wheel (yet again!) or otherwise failed to deliver on expectations, it is hugely important for the whole Network that whatever results from the eventual switch over from Recorder 6 will meet all our needs. The 'Life After Recorder 6' workshop presentations and notes may help to spark some ideas.
Whether you're inclined to think about future possibilities or just want to ensure that whatever succeeds Recorder 6 will triple-tick the standards and interoperability boxes, it would be great to have your help in designing a follow-up, 'Part 2' consultation that will then enable the Network to identify what the needs are from any future, online database system(s). If so, please drop us a line via databases@nuthatch.plus.com (ideally before 1st January 2018). We'll look forward to hearing from you.
And please don't forget the Recorder 6 consultation!
Written by Steve Whitbread