Over the last 6 months we've completed 41 enhancements and fixed 24 bugs of varying sizes and complexity.
Completed development work
Below are some examples of the development work we've completed.
It is now possible to have mixed-licence datasets, as GBIF now accepts them

We've added a 50km grid to the interactive map and Easymaps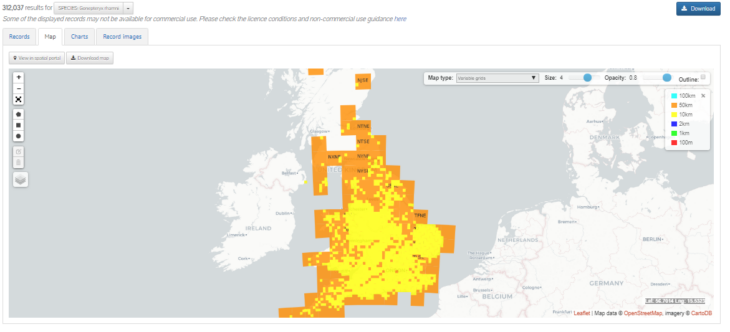 We've improved the name matching routine –  the name qualifier where available is now included. The name qualifier is used in the UK Species Inventory (UKSI) to determine different versions of the same name, e.g. the Common pipistrelle:
 Pipistrellus pipistrellus (Schreber, 1774) sensu stricto (TVK: NHMSYS0020001355)
 Pipistrellus pipistrellus (Schreber, 1774) sensu lato (TVK: NHMSYS0020001356) – this is a species aggregate.
The only difference between the names is the qualifier, which is particular to the UKSI. We have updated the name matching routine to include the qualifier, in this case 'sensu stricto' or 'sensu lato. This is a particular problem in the species lists where the name matching only works on scientific or common name and not taxon ID.
1km and 0.5km have been added to the search radius to location search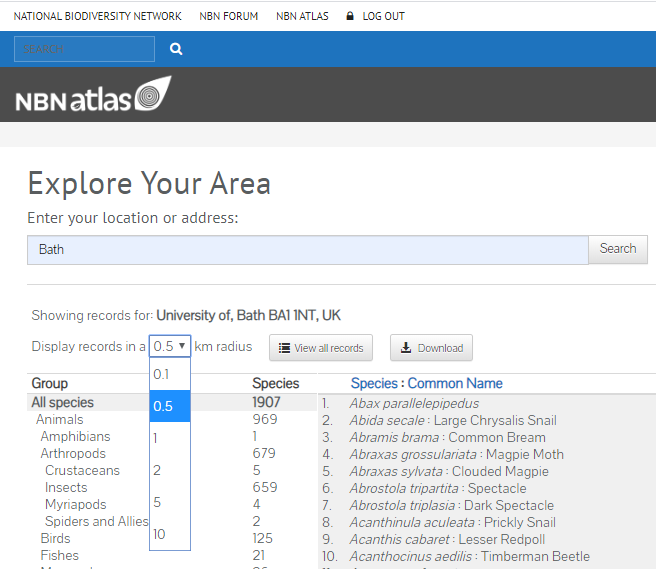 Additional development has been implemented for the Beautiful Burial Ground project, which includes; enhancements to the interactive map where you are now able to view all available records, the burial ground search functionality is more intuitive, and there is a new overview section that is similar to the NBN Atlas' 'Explore your Area'. A further phase of development is expected later this year.
Visit the Beautiful Burial Ground website  
We've

removed the Calculate AOO and EOO and Points to Grid tools from the Spatial Portal (analyse tool) as mentioned in the NBN Atlas spatial portal update article

There's an ongoing project reviewing the GitHub issues. We started with 167 open issues and we're now down to 93. Of the 93, there are 14 bugs and 82 enhancements being investigated

We've performed a full review of data quality assertions and all redundant items were removed from the index. This has saved 81GB of disk space and has improved the performance and speed of the NBN Atlas resulting in a better user experience

Some of the bug fixes we've completed include:

Records being duplicated when Archive files are processed

Inability to flag an issue

Taxon rank IDs that are higher than species not displayed in the records index

Explore by pre-defined area interface requiring the page to be refreshed to open correctly
Upcoming developments
Listed below are some of the upcoming developments in the pending or design stage and developments we're working on now:
Improvements to the species search and the full details will be included in a separate article in the next newsletter.
The UKSI will be updated during May's data processing run
Improvements to the Overview tab which include, but are not limited to:

Ability to include or exclude Unverified records, Absence records, Vitality status, Fossil records, Licence constraints

Bulk Sensitive Species authorisations for Data Providers