We are excited to share with you the National Biodiversity Network Trust's (NBN Trust's) new five-year strategy – "Making data work for nature" – which we have published today (4 May 2022).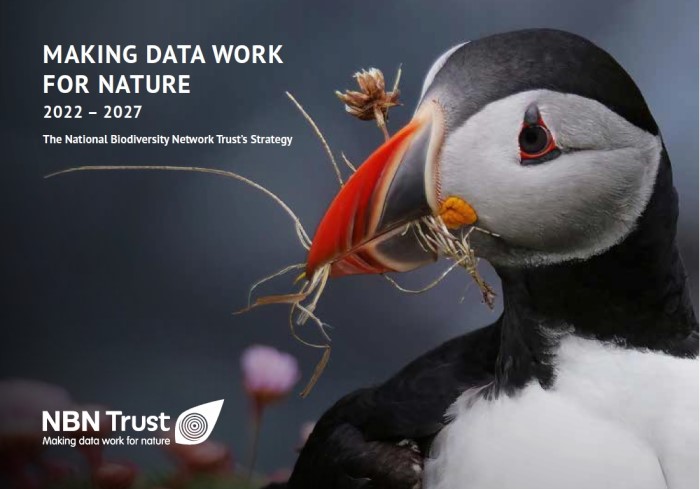 This is a pivotal time, not just for the NBN Trust, but for the entire conservation community and – most importantly – for nature. Urgent and concerted action is essential if we're to meet the global and UK targets of reversing biodiversity loss by 2030.  "Making data work for nature" sets out our ambitions to provide vital evidence for nature's recovery.
Our vision is of nature thriving everywhere, in all its diversity. We passionately believe that, together, we can reverse the biodiversity crisis. That's why partnership is central to our mission. Working with our National Biodiversity Network – the UK's largest partnership for nature – we create a vast flow of data carrying the evidence needed to protect and restore biodiversity, and the stories to inspire wonder and commitment.
The new strategy takes us into the NBN Trust's third decade and celebrates the fifth anniversary of the launch of the NBN Atlas, one of the world's largest repositories of publicly available biodiversity data. With more than 200 million records of over 46,000 UK species, the NBN Atlas is at the heart of the data flow for nature's recovery and is a vital resource for those who wish to understand and protect nature.
We have only a few years to bring about the changes that are needed to address the biodiversity crisis in the UK. The NBN Trust's new strategy sets out our ambitions and our commitment to helping make this happen.
Will you join us?
The NBN Trust is a small charity. We have a committed group of over 250 members, but if we are to see our vision come to fruition, we need more people to join us.
We know that our strategic plans are big. We know we will face many challenges, but we know, with the support of our members, we won't be alone. That's why we are asking you to consider becoming a member of the NBN Trust.
We need your voice, to help us be heard.
We need your collaboration, because together we can all achieve more for nature.
We need your subscription, to sustain and grow our small, but mighty team
Help us to make the impossible possible. By joining us, you'll help to:
Make the NBN Atlas an even more fantastic resource for conservation, research and education, ensuring it is the 'go to' place for sharing, finding and accessing biodiversity data.
Ensure biodiversity data is providing the evidence needed for nature's recovery.
Champion citizen science as a major source of biodiversity data.
Grow the National Biodiversity Network.
Whether you join as an individual or an organisation, there are different options to suit.
We couldn't be more excited to launch our new strategy. We would be even more thrilled if you joined us in our mission so we could work together to deliver our ambitions and to make data work for nature.