The world's first smartphone game designed to help save bumblebees has just been released.
Pooter! is a new smartphone game designed to help Britain's bumblebees – which have been in sharp decline for decades. This is the first time that mobile gamification has been used to drive wildlife conservation. With 45% of the UK already using smartphones, the makers of the game believe there is a vast untapped potential for citizen science through social gaming. Nearly half of us in the UK are now carrying around a powerful computer in our pockets which is equipped with GPS and a high quality camera, and can connect to an online database within seconds. Smartphone technology can now make creating vital biological records as easy and fun as playing Angry Birds or Fruit Ninja – only a whole lot more useful.
Players download Pooter! to their iPhone, iPod Touch or iPad; snap bees in their gardens, parks or on holiday; identify them using a built-in field guide; and score extra points for finding rarer or more conservationally interesting species. Pooter! players compete with friends and other members of the Pooter! community to win bee-themed prizes including a holiday, a supply of Fuller's Honey Dew beer, bee houses and bee-shaped Trunki luggage cases. Playing Pooter! also helps conservation scientists to track species distribution and teaches users about our native Bumblebees – so everyone is a winner, especially the bumblebees.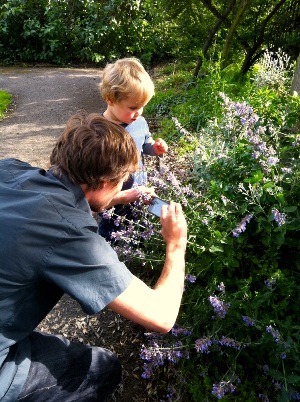 • Pooter! is the world's first smartphone game designed to aid conservation efforts around bee decline
• Bumblebee numbers have declined by 60 per cent since 1970.
• Bees pollinate 75% of our most vital crops and favourite foods.
• Without bees it would cost UK farmers £1.8 billion a year to pollinate our crops.
• All of the data from Pooter! is made available to bee researchers
The app has been created by Pooter! Community Interest Company, a non-profit set up with the sole purpose of aiding insect conservation efforts via the latest mobile information technologies. Seed-funded by IdeasTap and the National Youth Theatre, it's had technical input from Dr Ben Darvil and Dr Dan Danahar, leading experts in bumblebees and citizen science respectively.
The game will be a perfect activity for family and friends to play over the upcoming National Insect Week (25 June – 1 July 2012).
Download
Pooter! is free and available to download from the App Store now, you can also visit the Pooter website to download the app and for more information.
Data
The data generated will go to the Bees, Wasps and Ants Recording Society (BWARS) for verification and be fed into the NBN Gateway from there.
Two of the Pooter team are individual supporter members of the NBN.