We have made several changes to improve the species search function of the NBN Atlas.
The changes are effective from either of the search boxes on the homepage or from the Species tab (shown in the image below).  You may need to clear your cache for the changes to be effective.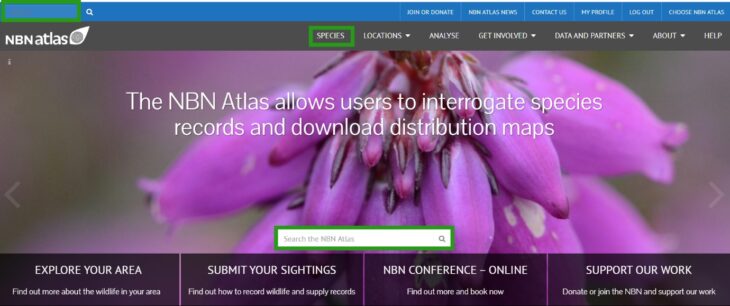 On typing a taxon into the search bar, if you select a name directly from the autocomplete drop-down list, you are now sent directly to the species page rather than to the search results.  If you select a common name or a synonym you will be directed to the species page for the accepted name – the NBN Atlas no longer links to species pages for synonyms.
Only recommended accepted names are now returned in the search. If the search has matched a common name or a synonym, the recommended accepted name linked to that synonym is returned in the search results.  The full list of synonyms is given underneath the list of common names
Non-native species are now clearly indicated within your search results, the status of non-native species is defined by the GBNNSIP checklist of non-native species on the UK Species Inventory.  The habitat of the species (marine, freshwater, terrestrial) is now also clearly indicated.  Before the improvements were made, users would have to select a taxon and view its overview page to see what its natural habitat is.

If the match is to a genus – for instance Bombus, all the child taxa under that genus are also returned in the search results.  It is now also possible to download the child taxa.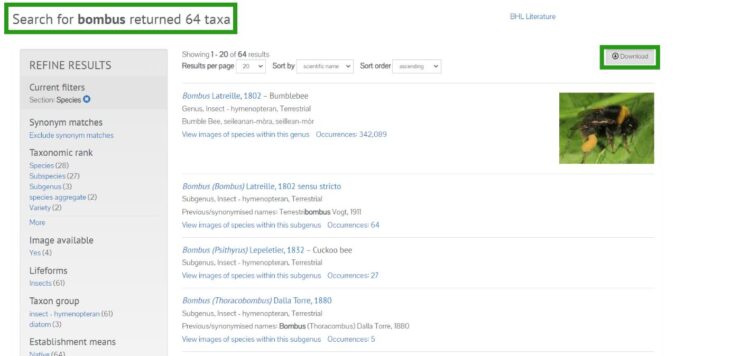 The order that results are listed in is now by scientific name, rather than by best match, which is not in use anymore.
More fields have been added to the download, notably the preferred common name.  Downloads now contain the following fields:
taxon ID
taxon rank
scientific name
scientific name authorship
nomenclatural status
preferred common name
establishment means
habitat
genus
family
order
class
phylum
kingdom
dataset name
The improved species search has an updated help page to assist you.