This month the other trainees and I have dispersed to different corners of the Museum for our curation placements. We are each pursuing our respective interests, spending time working with the collections of our favourite groups of organisms.
The aim of this phase of the traineeship is for us to gain an insight into the work that goes into maintaining and using a museum collection. So far, I think that being immersed in this environment has really widened my perspective on the importance of museum collections. I'm getting to see how invaluable they are for recorders and researchers all over the world. I'm sure the other trainees would say the same!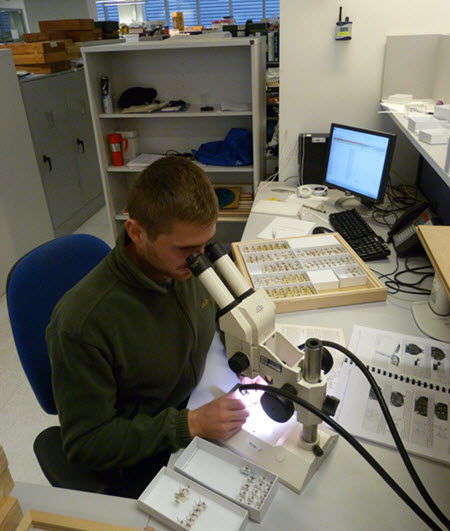 Matt has had a strong inclination towards flies since the beginning of the traineeship, and so he is very pleased to be working alongside the Museum's Diptera team. Matt has developed a specific interest towards the Sciomyzidae, also known as 'snail killing flies'. He is using his curation placement as an opportunity to become more familiar with the British Sciomyzid fauna.
The Museum has a collection of around 6000 British Sciomyzid specimens. Matt has been working on their recuration. First, he checks that the specimens are all identified correctly, and then he moves them into standardised museum trays so that they can be easily found by future researchers. Matt feels like he has really got to know the different UK Sciomyzid species, to the point that he can identify many of them by sight. He has even discovered a few misidentifications, including two specimens of a species that was previously thought not to be represented in the Museum!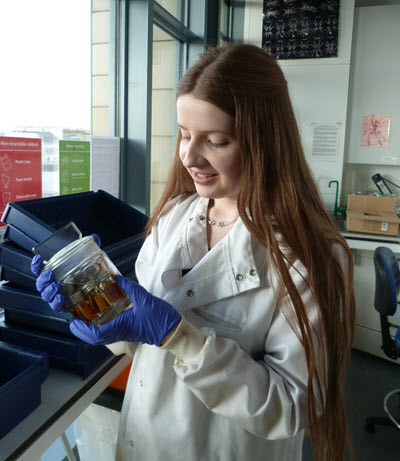 Laura has been spending her curation placement exploring her interest in freshwater invertebrates. She has been working in the department of small orders, specifically looking at the collections of adult mayflies (Ephemeroptera).  Her work has included looking for type specimens in the spirit collection and labelling specimens of adult mayflies. She will also soon begin photographing specimens, contributing to the Museum's digitisation initiative.
The mayflies are all very fragile, with extremely delicate wings and legs so handling them can be a nerve-wracking experience, but Laura has been building her skills and confidence. She now feels much more confident in working with museum specimens and has been enjoying her curation role very much. After her placement, Laura will be producing a multi access key to mayfly larvae for her final project. It will be filled with beautiful photo-stacked images of some of the specimens she has been working with.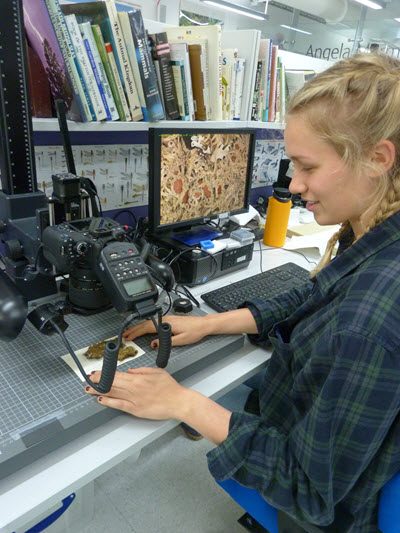 April is spending her curation placement in the beautiful, historic setting of the Museum's cryptogamic herbarium. She is surrounded by mahogany cabinets full of her favourite organisms – lichens. April has been recurating specimens from the collections of Barbra Hilton and Ann Allen. Both of whom are expert lichenologists from near April's home area of Devon. The specimens have ranged from interesting coastal, crustose species from Lundy, to the remarkable structural forms of foliose and fruticose lichens from Dartmoor.  To recurate the lichens, April has been confirming identifications using chemical tests and microscope examination. She then ensures that they are packed and labelled to a high standard before adding the specimens to the Museum's database.
April's placement has given her an opportunity to see some very rare and restricted species. She feels like her curation experience has really helped to expand her knowledge. April will be culminating all of her extensive lichen experience into a beginners guide to lichens for her final project which should be a very exciting resource!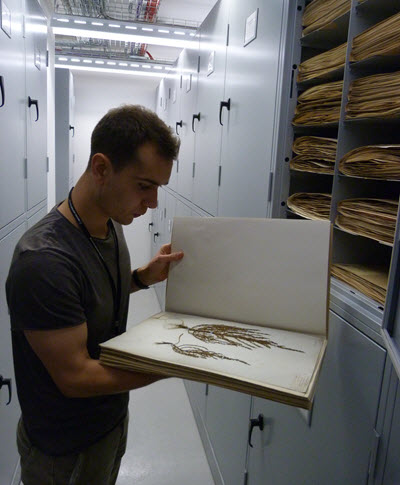 Alex is spending his curation placement furthering his botanical knowledge in the British and Irish herbarium. He has been assisting with the important task of incorporating specimens into the collections, specifically those collected by Rosemary Parslow, co-author of 'The New Flora of the Isles of Scilly'. Rosemary actually visited the Isles of Scilly for the first time whilst working at NHM, so it is great that her specimens have come back to the Museum. Alex has also been locating specimens collected by Samuel Dale, an eminent 17th Century Botanist who studied under John Ray, one of the fore-fathers of modern Taxonomy.
As well as working with historic specimens, Alex has also been venturing into some identification. He has been specifically looking at trees in the genus Sorbus and splitting species such as prickly saltwort (Salsola kali) and marsh ragwort (Senecio aquaticus) into their different subspecies. He feels that he has gained an amazing overview of British flora and the workings of the herbarium.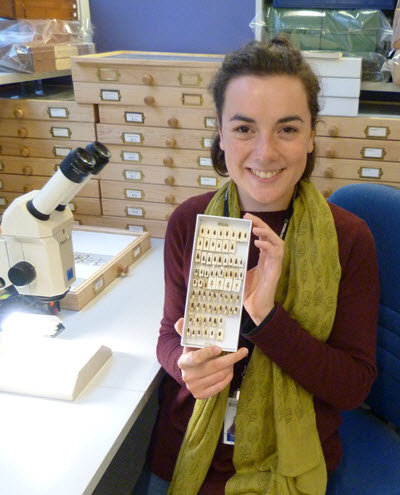 For my curation placement, I have been spending time in the Coleoptera department looking at the Museum's collection of British soldier beetles (Cantharidae). This family of beetles have particularly short lifespans and tend to be very seasonal, with different species arising at very specific times of year. I have been mining the Museum's collection for the dates that soldier beetle specimens have been collected over the years.  The dates range from this year, all the way back to the mid 1800s. I must admit that it is quite daunting, handling specimens that are decades old!
My aim is to accumulate a dataset that will allow me to compare the emergence times of soldier beetles over time. Hopefully this will allow me to see how recent changes in climate have impacted the British populations of soldier beetles. I'm even hoping to write it all up into a scientific paper at the end!  This is a fantastic opportunity. By the end of the placement I will have experienced the whole span of collection-based research, from specimen to publication.
I think that we will all be sad to leave the collections at the end of the month, but there is still much to look forward to. Our next (and final!) phase will involve teaching and education outreach. We are eager to see what new challenges it will bring!
Written by Steph Skipp, ID Trainer for the Future