Written by Ellen Wilson, SBIF Chair
Our wonderful friend and colleague Christine Johnston has retired but we cannot let her go without expressing our great gratitude and appreciation for all that she has done for the biological recording community in Scotland.  Whether through BRISC, TWIC, SBIF or NBN, Christine has been at the heart of trying to make things better for us all.  Her knowledge and friendships across the recording community enabled SBIF to reach out to involve as wide a range of perspectives as possible while undertaking the SBIF Review.  Indeed, I will always remember visiting Orkney where – thanks to Christine's smooth planning and logistics – we managed to meet and hear about the challenges and hope felt by so many organisations and individuals involved in biological recording across the Northern Isles. 
At the beginning of my involvement with SBIF, Christine was instrumental in giving me the confidence to take on being the Chair following in the hard-to-fill footsteps of Craig Macadam.  Working with colleagues from the Statutory Agencies, Local Authorities, LERCs, the NBN Trust and eNGOs et al, Christine facilitated the formation of the SBIF Advisory Group and ensured we worked coherently and collaboratively in all that we did.  If you need a right-hand woman, Christine is brilliant to have by your side!  Without Christine's never-ending support, good cheer and diligence, I know that the SBIF Review would never have been completed.  I appreciated Christine's hard work during some long days and late nights – including the one where we rather enjoyed making 'SBIF money' for a 'dragon's den' style workshop on funding!  
Most of all, I have appreciated Christine's technical know-how and general wizardry with maps and data – coupled with her empathy for people and the ability to champion the need for transformational change.  These essential characteristics underpinned SBIF being shortlisted for a Nature of Scotland Award in 2018 and winning the CIEEM Award for Stakeholder Engagement in 2019 – so thank you Christine for helping us to be amazing!  Given her many skills and capabilities, Christine was well-placed to join the NBN Trust at the time when the NBN Gateway was being moved to the NBN Atlas.  Her focus on user needs and her awareness of the value of spatial habitat data alongside species records meant that the NBN Atlas had the foundations it needed. 
It has been a privilege to work with Christine and I know that her company and wise counsel will be much missed.  We will arrange a suitable retirement party in person as soon as we can to celebrate Christine's great contribution!  For now though, just a huge thank you for all that she has done for BRISC, TWIC, SBIF, NBN and everyone involved in biological recording in Scotland.  We wish Christine the very best for a relaxing retirement and lots of moth and tree recording!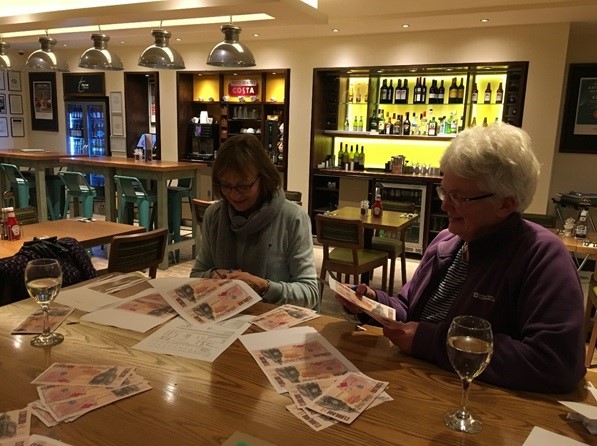 Photo by Ellen Wilson: Christine Johnston with Liz Edwards working on making 'SBIF money' for use in a 'dragons den' workshop session on funding!