Dynamic Dunescapes is a fantastic new project to restore sand dunes across England and Wales for the benefit of people, communities and wildlife.
The fun, summer holiday image of sand dunes is well known, but their role as a sanctuary for endangered plants and animals like the fen orchid and sand lizard is less well recognised. Now our sand dunes are under threat. They are becoming more and more densely covered by grass and scrub while our wildlife needs areas of open sand to thrive.
Now, a pioneering partnership – Dynamic Dunescapes – backed by £4m from the National Lottery is stepping in to save them by working with people to bring life back to the dunes and get them thriving again – reversing a decades old approach to dune management.
A habitat in decline
Sand dunes are listed as the habitat most at risk in Europe. Since 1900, the UK's sand dunes have declined by a third, climbing to nearly two-thirds in Wales. They provide sanctuary for endangered plants and animals with seventy priority species largely restricted to dune habitats including the natterjack toad, dune gentian and sand lizard.
Dunes are naturally mobile and need to be dynamic to be effective ecosystems. However, previous management measures restricted public access, and invasive species have prevented dunes from moving, causing many to become static, sterile grassy hillocks.
The Dynamic Dunescapes project is big and ambitious – targeting some of the most important sand dune systems across England and Wales. Working with schools and local groups, volunteers and visitors of all ages and abilities will create more bare sand which will breathe life into the dunes and allow the threatened wildlife to flourish.
Project information
The project will launch in 2020 and will concentrate on improving the condition of nine identified dune cluster sites at:
Anglesey and Gwynedd
Braunton Burrows, North Devon Coast
Carmarthenshire
Cumbrian Coast
Lincolnshire Sand Hills
North Cornwall Coast
Sefton Coast
Studland Dunes, Dorset
Swansea, Neath, Port Talbot
Over the next four years, the project will:
Conserve nearly 7,000 hectares of sand dunes (35% of the total in England and Wales), including natural rabbit grazing, creating dune slacks and removing invasive species.
Create a citizen science programme, including thousands of children, to help monitor wildlife and how the sand dune systems are changing.
Deliver a skills development programme for individuals and organisations. This will include sand dune management training and research projects.
Build a greater understanding and appreciation of sand dunes with people of all ages through an extensive engagement programme.
Improve access to sand dunes and, by linking the footfall from visitors with measures to reinvigorate open habitats.
Ensure learning from the project is shared across all dune managers to inform UK wide dune rejuvenation.
There will be plenty of opportunities to get involved and help bring sand dunes back to health.
Find out more information and find out how to get involved on the Dynamic Dunescapes website.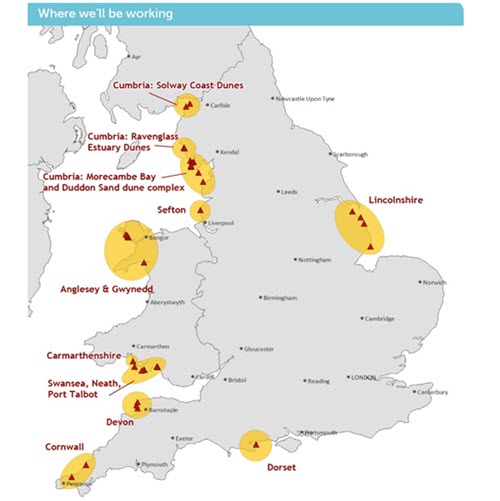 Natural England, Plantlife, National Trust, Natural Resources Wales and the Wildlife Trusts are working in partnership to deliver this ambitious and innovative project.