BBC Winterwatch – Series 9, episode 3, broadcast on 21 January 2021, featured the Comma butterfly (Polygonia c-album), and included the distribution map of Comma records from the NBN Atlas (see below).
View the programme on BBC iPlayer (you need to register and sign in to the BBC to do so). If you want to skip to the feature on the Comma butterfly, it starts at 04:25
You can find out more about the Comma in general, as well as look at the 93 individual datasets that feature on the map.  You can even look at a breakdown of Comma numbers by geographical area (Watsonian Vice County) – all by visiting the NBN Atlas.
In addition, if you are curious, you can discover what wildlife lives near you!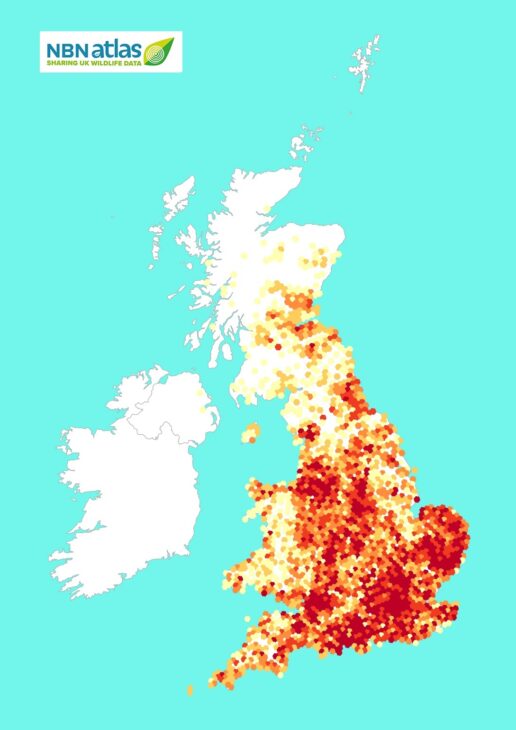 The Comma butterfly records have been shared on the NBN Atlas by the following 49 data partners:
Argyll Biological Records Centre
Berkshire Moth Group
BIS for Powys & Brecon Beacons National Park
Bristol Regional Environmental Records Centre
British Trust for Ornithology
Buglife
Butterfly Conservation
Cofnod – North Wales Environmental Information Service
Cumbria Biodiversity Data Centre
Derbyshire Biological Records Centre
Derbyshire Wildlife Trust
Dorset Environmental Records Centre
Environmental Records Information Centre North East
Fife Nature Records Centre
Gloucestershire Centre for Environmental Records
Greater Manchester Ecology Unit
Highland Biological Recording Group
Lancashire Environment Record Network
Malcolm Storey
Manx Biological Recording Partnership
Merseyside BioBank
Ministry of Justice
National Trust
National Trust for Scotland
Natural England
Natural Resources Wales
NatureSpot
Norfolk Biodiversity Information Service
North East Scotland Biological Records Centre
Nottingham Urban Wildlife Scheme
Nottinghamshire Biological and Geological Records Centre
Record
Rotherham Biological Records Centre
Royal Horticultural Society
Scottish Wildlife Trust
Sheffield and Rotherham Wildlife Trust
Shire Group of Internal Drainage Boards
Shropshire Ecological Data Network
South East Wales Biodiversity Records Centre
Staffordshire Ecological Record
Suffolk Biodiversity Information Service
Sussex Biodiversity Record Centre
Thames Valley Environmental Records Centre
The Wildlife Information Centre
UK Butterfly Monitoring Scheme
Welsh Government
West Wales Biodiversity Information Centre
Woodmeadow Trust
Yorkshire Wildlife Trust