News and events
The NBN Trust's 20th Anniversary
The National Biodiversity Network Trust was set up as an independent charity in 2000, to oversee and facilitate the development of the Network.
So, during 2020, we are celebrating our 20th anniversary!
Take a look at our history and what we've achieved: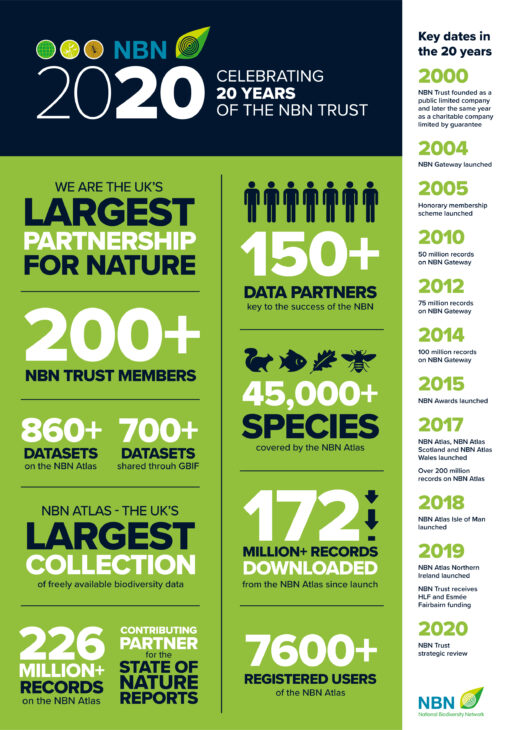 Infographic courtesy of willbovill.com
'Top 20' wildlife datasets
As part of our 20th anniversary celebrations during 2020, we are highlighting the 20 most popular datasets on the NBN Atlas. This 'top 20' is an objective measure of the most downloaded wildlife datasets – taking into account the length of time the dataset has been on the NBN Atlas.
So, these are the 20 datasets that you have found interesting enough to download most frequently either for your work or for your personal use.
During the NBN Trust's 20th anniversary year we will be looking at these 'top 20' favourite NBN Atlas wildlife datasets in turn:
We start with the 162,526 UK-wide records of bees, wasps and ants (Hymenoptera: Aculeata) from iRecord.
Another of the 'top 20' most downloaded datasets are the 595,069 records from National Trust properties in England, Wales and Northern Ireland.
We continue with the 4,991 UK-wide records of Coleoptera from iRecord for families not covered by a recording scheme.  
Another of the "top 20" most downloaded datasets are the 272,770 records of non-sensitive species from Natural Resources Wales.