iNaturalistUK
iNaturalistUK – Questions & Answers

1. What is iNaturalistUK?
iNaturalistUK is part of the iNaturalist Network, a growing international community.
One of the world's most popular nature apps, iNaturalist helps you identify the plants and animals around you. It is a place where you can share your wildlife sightings, set up your own monitoring project and meet a growing community of nature recorders.
By being part of the UK iNaturalist community you can help contribute data for use by scientists and researchers.
iNaturalistUK is a partnership between the NBN Trust, the Marine Biological Association (MBA) and the Biological Records Centre (BRC).
iNaturalist is a joint initiative by the California Academy of Sciences and the National Geographic Society.
2. How do I become part of iNaturalistUK?
Create an account on the iNaturalistUK website or you can download the app. Search for 'iNaturalist' on Google Play or the App Store. New users will be prompted to affiliate to iNaturalistUK. You will still remain part of the international community.
If you are already an iNaturalist user or miss the prompts, it's simple to update your settings.
On the website
Go to the 'Account' page under Settings. (This is accessed by using the drop down menu next to your image or icon on the top right of the page.) Select iNaturalistUK from the list in the dropdown box on the right side of the page.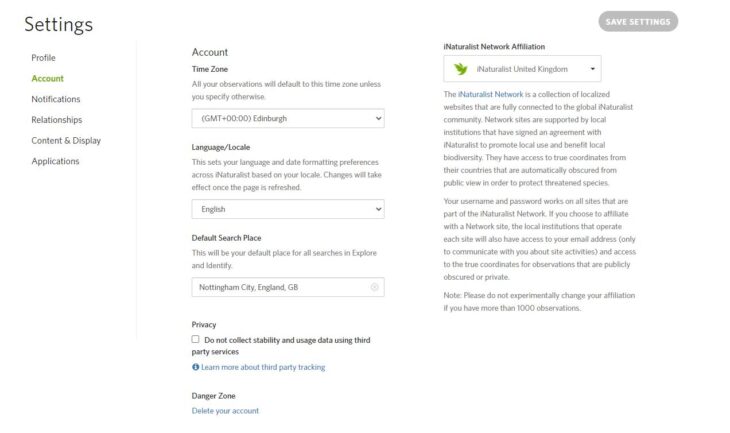 Tip: Remember to log in via uk.inaturalist.org to receive UK specific announcements to your dashboard.
On the App
Go to settings and look for iNaturalist Network. Select 'iNaturalist United Kingdom' from the list.
We suggest that you log into your account using the website initially and on a regular basis. Within the website version you can access and update your account profile, add more details to your sightings, create favourite locations that you visit, find out more about the community and find projects in your area.
Learn more about Network Affiliation
Read iNaturalist Privacy Policy
3. How do I set a licence for my sightings?
Licensing your content gives anyone the legal right to use it without asking your permission if they abide by the terms of the licence. In the UK biodiversity data is used by local environmental record centres, conservation groups, research organisations, government bodies and many others. Within account settings on the website, you can select the licence you want to give to your sightings and photos. Go to Settings > Content and Display and choose your licence. The licence you chose is up to you. Ideally we ask that sightings are given a CCO or CC-BY by default to allow them to be used as widely as possible. Photographs can be given a more restrictive licence separate to the sighting.
The following licences are supported on the NBN Atlas: CC0, CC-BY and CC-BY-NC
More detail is available within the Content and Display section under your profile.
You can also read the iNaturalistUK blog post 'Licenced to Share' for further details.
See also this recent iNaturalist Blog post regarding licensing of photographs.
Further reading: Creative Commons guide to licences.
4. What happens to my iNaturalistUK sightings?
All records on iNaturalistUK that reach 'research' grade are shared with GBIF, the Global Biodiversity Information Facility, where they can be freely viewed and downloaded subject to licensing conditions. Researchers, local environmental records centres, wildlife trusts and other conservation organisations may also view and use the data to increase their knowledge and understanding of the UK's biodiversity. (See below for more information on sharing to the NBN Atlas and iNaturalistUK And Its Place In Biological Recording Data Flow.)
Being part of the iNaturalist Network allows the recording community, through the NBN Trust, enhanced access to UK records. The NBN Trust and BRC will share this data with selected organisations across the UK, following the guidance of sharing sensitive records and licensing agreements. This will facilitate the use of iNaturalistUK data for research and conservation in the UK.
Find out more about iNaturalist geoprivacy
5. Is iNaturalistUK intended to replace iRecord, Bird Track and other UK based recording tools?
No. iNaturalistUK will complement the wealth of recording tools that we are able to use in the UK and abroad.
6. Which recording tool should I use?
We suggest using the tool that you are most comfortable with. This could change depending on what your level of experience in recording a species group is, or if you are taking part in a community event, for example, an organised BioBlitz such as the City Nature Challenge. If you are uploading a spreadsheet of sightings that do not contain photos, then we would suggest using iRecord. Wildlife sightings without photos cannot become 'research grade' and so will not be shared with GBIF. However, they may still be of use to other organisations. You can find more details about these recording tools and surveys on the Record Wildlife page.
7. Who uses iNaturalistUK?
Anyone can use iNaturalistUK whether you are starting out in wildlife recording or a seasoned expert. It's used by thousands of  individuals, organisations wanting to encourage citizen science projects as well as for the international City Nature Challenge event. As at April 2021 around 56,000 people had recorded sightings in the UK using iNaturalist.
8. What are the benefits of iNaturalistUK
Many of the sightings are added and recorded in real time. It's a great tool to engage children and the general public who are just starting out in recording. With an active community online, it can help people build learning as identifications are discussed.
It allows researchers to find out what is being spotted locally and in real time. Often sightings can be recorded, uploaded and a suggested identification made in a few minutes.
See what iNaturalistUK users are saying.
9. How does it deal with sensitive species?
iNaturalist obscures the locations of all taxa with an IUCN equivalent status of Near Threatened or "worse". A taxon geoprivacy setting is automatically applied to these species. Should a recording be made of a sensitive species in the geographical area covered by iNaturalistUK it will automatically be 'blurred' to the agreed resolution irrespective of the settings applied by the user. For example, where location is open by default, sensitive species will be blurred. The NBN Trust will be able to access this data and make it available to local environmental records centres and the BRC who will manage the data in line with GDPR and other relevant UK legislation.
Over the next few months the NBN Trust will be reviewing the geoprivacy of species on iNaturalist that are in the current UK sensitive species lists. The aim is to apply the same settings as that used on the NBN Atlas where possible.
Find out more about geoprivacy on iNaturalist.org and in the Curators Guide.
10. Will my data be shared via the NBN Atlas?
Possibly.
The iNaturalist platform is based on 'crowd sourcing' of observations and identifications where the iNaturalist's international community agrees the species identification. Although many of these community members are experienced and able to correctly identify species, this system is different to how the majority of UK species records shared to the NBN Atlas are currently verified.
In the UK there have been many years of experience built up in verification methods. This process is undertaken by recognised species experts such as county recorders, recording schemes and through local environmental records centres. They will use tools such as Recorder 6, NBN Record Cleaner and iRecord.
This doesn't mean that the species identifications on iNaturalistUK is necessarily incorrect but rather that it has not gone through the same checks that give these verifiers the full confidence of identification. As many of the verifiers are volunteers they have limited time to review data so some will concentrate on verifying through one platform – eg iRecord.
The BRC have recently relaunched the import of iNaturalist data into iRecord. Read more about iNaturalistUK And Its Place In Biological Recording Data Flow.
A number of organisations, such as the Marine Biological Association (MBA), run community projects like BioBlitz's, which ask people to record their sightings. Following the event, a team will review these records and put them through a verification process. This means that these records, once reviewed may be shared to the NBN Atlas. In addition, local environmental records centres may review iNaturalistUK data for their area and include it in their datasets. These records may then be shared on the NBN Atlas.
It should be noted that there are no plans for the NBN Trust to transfer data directly from iNaturalistUK to the NBN Atlas, other than the exports we currently do at the request of NBN Atlas data providers. For example, CEDaR's iNaturalist records from Northern Ireland.
All sightings on iNaturalistUK that reach 'research' grade will be regularly shared to GBIF, the Global Biodiversity Information Facility, where they can be freely viewed and downloaded subject to licensing conditions.
11. Will my data be shared to national recording schemes and societies?
The Biological Records Centre aims to support national recording schemes and societies who would like to engage with data on iNaturalistUK. There is more information on the help section of the iRecord website. The BRC hopes to review processes over the summer of 2021 and work with iNaturalist to make the systems work better together.
12. Will records from the Isle of Man and the Channel Islands also be included in iNaturalistUK?
Unfortunately no. Currently the iNaturalist software only allows for one country to be included within an individual iNaturalist platform. It is something the developers at iNaturalist are reviewing as there are requests from other countries across the world to have combined territories.  Users in the Isle of Man and the Channel Islands can still log their sightings on iNaturalist.org
13. Do any other countries have their own iNaturalist platforms?
Yes. The UK has joined a growing Network of iNaturalist users. These include Australia, Canada, Finland, Mexico, Israel and Panama to name a few.
Find out more about the iNaturalist Network
14. Can I use it to record my sightings while on holiday abroad?
Yes. As iNaturalist is an international tool you can use it wherever you are in the world.
15. What happens to my sightings on Seek by iNaturalist?
Seek by iNaturalist is a standalone app and is designed for use by all but particularly by children (under 13). It does not share data and can be used to help ID sightings without any sign in required. Observations are stored on the device and not backed up online.
It is possible to connect to iNaturalistUK from Seek and so share sightings if you already have an iNaturalist account. Guidance on how to do this can be found on the Seek by iNaturalist app.
16. How do I find out more?
There is lots more information in the Help section on the iNaturalist website, where you will also find tutorials and guides about how to take photos and adding details to your sightings. The iNaturalist Forum is also a useful place to ask questions and for discussions. Please note that the Help content is provided by iNaturalist.org and not by the NBN Trust.