iNaturalistUK
iNaturalistUK and its place in biological recording data flow
iNaturalist is a global online system for collecting wildlife observations, which launched over ten years ago. In April 2021 a UK portal, iNaturalistUK, joined the growing iNaturalist network.
The National Biodiversity Network (NBN) Trust is the co-ordinator of iNaturalistUK, with the support of the Marine Biological Association (MBA) and the Biological Records Centre (BRC). Together we want to support and promote the use of iNaturalistUK as one of a suite of recording tools available to the UK's biological recording community. This page explains how iNaturalistUK complements the other tools and what we're doing to ensure that iNaturalistUK data meets the needs of the UK's biodiversity data community.
Our institutions (NBN Trust, MBA and BRC) are all committed to supporting the efficient and timely flow of UK biodiversity data from the various wildlife recording platforms, to the end users of the data. This includes the flow of data from iNaturalistUK to the NBN Atlas, the UK's largest collection of biodiversity data.  
Visualisation of UK Biodiversity Data Flow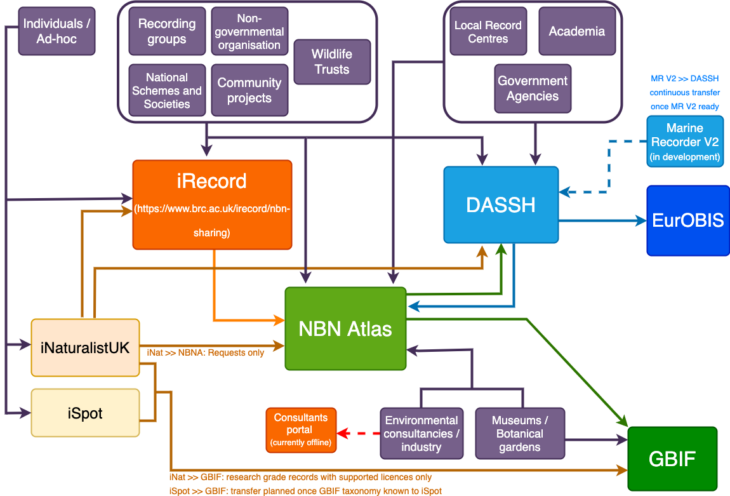 Making the most of iNaturalistUK data
iNaturalistUK is a great tool for those who are new to recording, as it has a simple user interface and provides help with species identification. However, it is also increasingly popular with experienced recorders and with organisations wishing to run Bioblitzes and other recording projects.
All observations from iNaturalist around the world are regularly shared with the Global Biodiversity Information Facility (GBIF) and data is transferred from iNaturalist UK as part of this. We have also reviewed the options for importing iNaturalist records into iRecord so that they can be verified and made accessible to national recording schemes, county recorders and local environmental records centres and be shared via the NBN Atlas.
We recognise that some schemes and societies welcome the approach to using iNaturalistUK, while others are more cautious.
Having assessed the import of iNaturalistUK records to iRecord, following the trial in 2018 and 2019, we are pleased to confirm that this is now being relaunched. This means that verification of records from iNaturalistUK that have been imported to iRecord will take place. This additional verification process will facilitate sharing of the records with recording schemes and records centres. 
Relaunch of iNaturalist imports to iRecord
Records from iNaturalist that fall within the UK (and Isle of Man and Channel Islands) are now being imported into iRecord and can be seen via the Explore pages. Records are imported if they meet all of the following requirements, i.e. that they:
(i)  fall within the specified geographic area, 
(ii) have reached "research grade" within iNaturalist itself  
(iii) match the UK Species Inventory, and 
(iv) have an appropriate licence to allow the records to be shared in this way. 
Once the records are within iRecord they will follow the same data flow route to the NBN Atlas as records added directly to iRecord.
Recording scheme verifiers are able to verify or redetermine the records if they choose to do so (note that this may not happen quickly, or at all, depending on the species group, volume of records and availability of verifiers). Unfortunately it has not yet been possible to find a way of posting feedback on the verifier decisions to the original recorder in iNaturalist. Options to provide feedback are being investigated
iNaturalistUK provides an opportunity for making these records more widely available and linking them more closely to other biological recording systems. We hope that enabling the records to be accessed via iRecord will assist in this process, for example, by linking the records to the UK grid reference and vice-county systems and to the UK Species Inventory.
Further general details are available on the iRecord Help pages
More detailed information has been sent to iRecord verifiers.
How iNaturalist users can help iRecord verifiers
There are a number of steps that iNaturalist users can take if they wish to make their records as compatible as possible with the UK recording schemes:
Choose an open licence for your records: CC0 or CC BY will enable your records to be used as widely as possible; CC BY-NC (non-commercial) can prevent records being used by some schemes and local environmental records centres. Other licence choices (such as SA and ND) are difficult to interpret for individual records, and cannot be used in iRecord or the NBN Atlas (nor on GBIF). More information is on the iNaturalistUK blog.
Provide your real name if possible; this can be added as the "Display name" in your iNaturalist profile, and will then be used as the recorder name on iRecord
Avoid obscuring locations unless absolutely necessary, as this can prevent them being linked to grid references of suitable precision for recording scheme use
Now that the record import is in place, it is helpful if you can avoid adding the same record to both iNaturalist and iRecord, to avoid duplication of both records and of verifiers' time
Direct data transfer to the NBN Atlas
There are no current plans for data to be transferred directly from iNaturalistUK to the NBN Atlas. However, some data providers ask for such exports to be carried out on an individual basis, for example, CEDaR's iNaturalist records from Northern Ireland. This means more data is available on the NBN Atlas, but it is flagged as unverified unless recorded or identified by a known expert, so can be filtered out of downloads if required.
Please contact us at data@nbn.org.uk if you would like more information on this.
Contributing to the development of iNaturalist
Being part of the global iNaturalist network through iNaturalistUK will help us to steer the development of iNaturalist by contributing directly to relevant discussions.
We have also established a User Group to help us understand more about how individuals, organisations and groups are using iNaturalistUK to gather data and engage people in recording wildlife. You can find out more and how to sign up to join the Group on the iNaturalistUK pages on this website
Further information on the project as a whole is also available on the iNaturalistUK page.
Useful links