A new data visualisation tool puts data collected by OPAL's citizen scientists into your hands.
What do lichens say about the air quality on your street? Has the invasive New Zealand flatworm spread to your neighbourhood?  See your local area in a new light thanks to over 41,000 environmental records collected by OPAL's citizen scientists, now available on the OPAL Data Explorer.
OPAL survey data has already made a valuable contribution to science (see our latest results here), but this is the first time that the wealth of information gathered by OPAL participants has been made easily accessible online. So whether you've taken part in an OPAL survey in the past, or just want to explore environmental data near you, now is your chance.
The records available on the OPAL Data Explorer cover all eight of OPAL's currently active surveys, with data going back as far as 2010 for the Air, Biodiversity, Soil and Water Surveys.
Make the most of the OPAL Data Explorer
Here are just a few ideas to help you make the most of the OPAL Data Explorer:
See what data has been collected by OPAL participants near you (use the 'my patch' functionality to save your local town or region)
Use filters to explore trends in the data
Find any OPAL surveys responses that you have submitted in the past (log in to add them to your favourites)
See how your results compare to national averages
No data available near you? Go out and do an OPAL survey, submit your results and see them appear on the map (please be aware that there is a 15 minute delay)
Watch our video for a whistlestop tour of the OPAL Data Explorer's features, or download our user guide (pdf) for step by step instructions.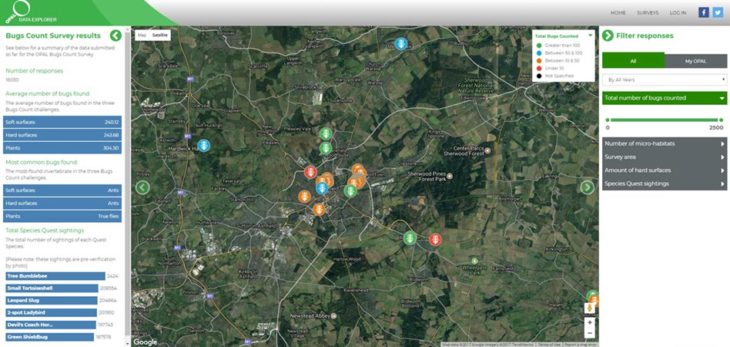 Register now to unlock the OPAL Data Explorer's full functionality
Register now to access all the OPAL Data Explorer's features, including the ability to save survey results and graphs to your account (using My Favourites), and define your local area (My Patch).
You will also receive updates when new functionality is launched on the OPAL Data Explorer or when training opportunities become available. Register now.
Share on social media
We want as many people as possible to use the OPAL Data Explorer to view and analyse the data collected by our citizen scientists. So please share the news, or take part in our social media campaign:
Find your local area on the OPAL Data Explorer homepage
Take a screenshot of the map
Share it on Facebook, Instagram or Twitter, tagging it with #OPALdataexplorer
Feedback
Please be aware that the Data Explorer is still in development. Over the coming months we will be working to enhance its functionality and fix any issues, and would value your feedback and suggestions. Let us know what you think
The OPAL Data Explorer has been developed by the OPAL team at Imperial College London, in collaboration with Shoothill.