Blog written by Rachel Tierney, SBIF Development Officer.
SBIF Review shortlisted for CIEEM Awards
We are delighted to announce that the SBIF Review has been shortlisted for the CIEEM Awards 2019 "Best Practice – Stakeholder Engagement" category.
Thank you to everyone who supported and contributed to the Review, inputting into the workshops, interviews, questionnaire and since the launch, engaging with meetings and continuing to be an advocate for the Review.  Our shortlisting in this category recognises the great sense of willingness, partnership and parity of esteem running throughout the biological recording infrastructure in Scotland and the optimism towards our shared vision and future.
Sally Thomas, Director of People & Nature, Scottish Natural Heritage states: "The Review is an exemplar of consultation and stakeholder engagement, thoughtful analysis and shared ambition. It is really good to see this excellent work being recognised – fingers crossed for the final decision on the winner!"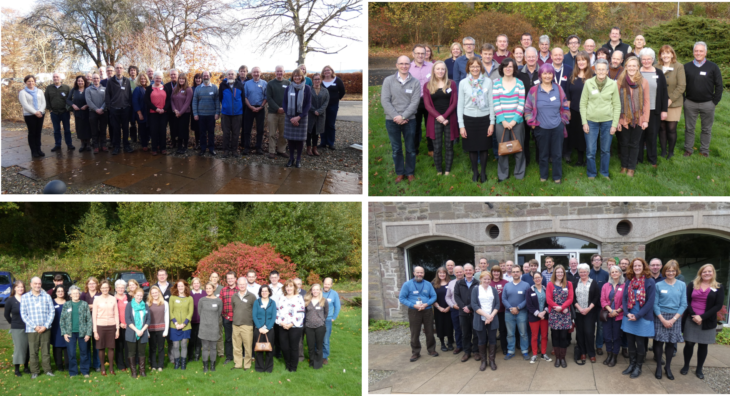 66 people

from 39 organisations attended the Review

workshops, just one of the many ways people contributed to the SBIF Review
Gathering momentum
While we await the awards ceremony on the 27th June, we will continue to work with Scottish Government, SNH, NBN Trust, Scottish LERCs and other key stakeholders to identify priorities and opportunities for early or phased adoption of the recommendations from the Review and to form a detailed plan for our approach over the coming months.
The Review continues to gain traction with key stakeholders and last week we met with Gillian Martin, Convener of the Environment, Climate Change and Land Reform (ECCLR) committee in Holyrood to discuss the importance of a supported, sustainable definitive evidence base for biodiversity information across Scotland.
As set out in the strategy of the National Biodiversity Network, "we will grow our commitment to share biological data and information to provide a comprehensive, unparalleled and authoritative understanding of our natural world".  Together we need to ensure that our biodiversity information is sufficiently up-to-date, and accessible, so we can collectively inform sustainable action for the wildlife and people of Scotland.  With each month we edge closer to achieving this!