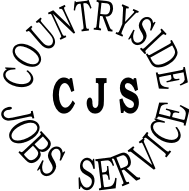 Countryside Jobs Service overview
CJS is an ethical business working in harmony with environmental professionals to conserve the British countryside and natural world. Motivated by conservation success not profits. Although primarily known for our job service CJS is much more than a recruitment site, we've been publishing countryside, conservation and wildlife sector information since 1994. With an extensive, and growing, library of articles covering many subjects across the conservation sector, a wide ranging training directory and daily news updates the website provides a one stop shop for everyone interested in the natural world and its management. Our free daily email provides details of each day's website updates, including jobs, and our monthly newsletter, CJS Professional, provides all these in one easy to read email package with links for further information.
CJS is pleased to renew our corporate support for the NBN for another year helping to support the vital work of the network. Being a corporate supporter of the NBN is a natural fit for CJS which has always aimed to make a difference and help the British countryside and conservation sectors to thrive and to support the people who work in them.
Kerryn Humphreys, CJS Editor
---