Today SBIF reached another milestone in that our 'SBIF Review Investment Programme Proposal' has just been formally submitted to Scottish Government for their consideration.
This Proposal is the culmination of all of the work undertaken by the SBIF community in response to Public Petition PE1229.
It set outs how the Review Recommendations can be implemented, detailing six projects to be delivered by 2025.  If undertaken, these projects would transform our biological recording infrastructure and crucially, identify and implement a longer-term mechanism for sustainable funding.
The first project is focussed on the necessary feasibility studies and project development.  This sets the foundations for the next project to establish the National and Regional Hubs.  A further project then develops a shared technical road map and invests in our Super Partners who provide invaluable Infrastructure support and services across Scotland.  The newly established National and Regional Hubs will then have capacity to undertake three projects to facilitate improved data flows, develop value-added services, and build capacity with recording groups and community groups to maximise engagement and participation.
We would like to thank everyone who has continued to support the SBIF vision, advocating for the Recommendations of the Review throughout your networks and giving us the momentum to keep driving this Programme forward.
We will now wait for a response from Scottish Government to our Proposal and will continue to work closely with SNH as we move forward.
In the meantime, we wish you a very merry festive break, and hope you find plenty of time to get out and do a spot of recording.  A quick look on the NBN Atlas Scotland shows lots of 10km squares with no records at all from Christmas Day…what better excuse to walk off your Christmas dinner and get some fresh air!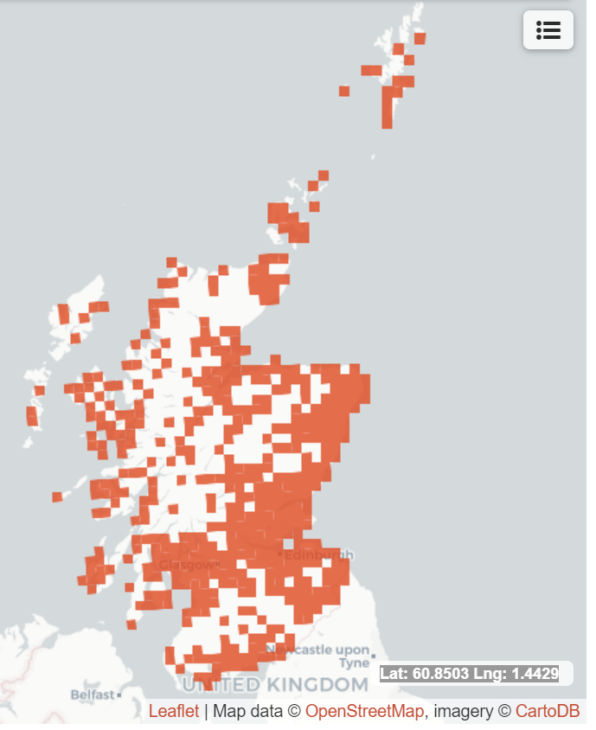 Can you help fill in some record gaps on 25th December?
Source: NBN Atlas Scotland. Accessed 11:30 19/12/2019