Written by Lisa Chilton, NBN Trust Chief Executive Officer
Last month I explained why 2022 is the year that I'm going to throw myself back into recording wildlife and, in doing so, create data that can help nature recover. This month I'm reporting on my first tentative steps. 
I decided to begin my 'rebooted' recording journey by acquainting myself with one of the most popular wildlife recording tools in the UK, iNaturalistUK.  Part of the global iNaturalist network, iNaturalistUK is a new online community for UK recorders.  With its welcoming, social-media feel and easy-to-use features, iNaturalistUK is a great choice for those new to wildlife recording…and those, like me, who are very rusty and needing a gentle introduction. Another plus is that iNaturalistUK is managed by the NBN Trust (in partnership with the Marine Biological Association and the Biological Records Centre), which means there's help on hand if I get stuck! 
Top tip 1: Whether you download the iNaturalist app or sign up at iNaturalistUK, you can affiliate to iNaturalistUK to ensure UK researchers, conservationists and policy makers can make the most of your sightings. Go to Settings > iNaturalist Network on the app or Account Settings > Account on the website.  
Strangely hesitant about venturing forth to make my first new recording, I began instead by uploading to iNaturalistUK a selection of old wildlife photos that were on my phone.  From a Common Frog that my son spotted on a family walk in the Cairngorms to my cherished Flapper Skate egg case (I'll come back to that in a future post), I copied the photos over one by one and added the date and location information. Thankfully, my phone had saved the date and approximate location for each photo, and I was then able to add a more detailed location manually.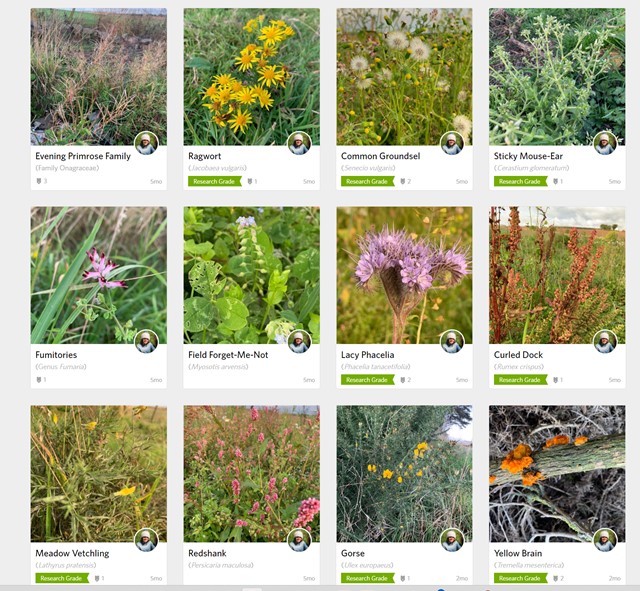 One of the joys of iNaturalist is that you don't need to know what the species is – which was the case for many of the wildflower photos that I posted.  The platform's Artificial Intelligence immediately suggests possible identifications, highlighting whether that species has been seen nearby. Even better, there is a large and friendly community of iNaturalistUK users who'll help confirm what you've seen. Within hours of posting a photo that iNaturalistUK had suggested to be Yellow Brain fungus, two other people had kindly added the same identification, meaning that my record was now considered to be 'Research Grade'.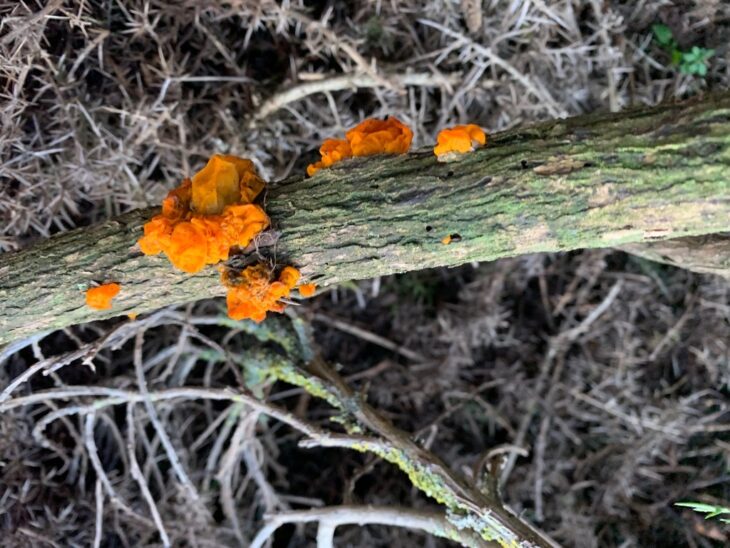 Over the next few days, most of my records were confirmed. In one case, my photo was only good enough to identify the family that the plant was in, rather than the species. I'd hastily identified it as Rosebay Willowherb, but another user disagreed. The record now shows the family (Evening Primrose family) rather than the species name. This was a timely reminder that, no matter how tempting it is (and it really is tempting!) to assign all your records to an individual species, it won't always be possible.  
It's so rewarding to see your growing portfolio of sightings, all in one place, and to relive each moment. It's surprising how many of the details come back to you when you look at the photos – from my young son's unbridled delight when a Common Toad peed in my hand, to his fascination at a hairy Oak Eggar caterpillar. And it's a genuine buzz when a record is confirmed and makes it to Research Grade. I don't know what the etiquette is, but I feel compelled to send a 'thank you' message to all those who have taken the time to comment on my records.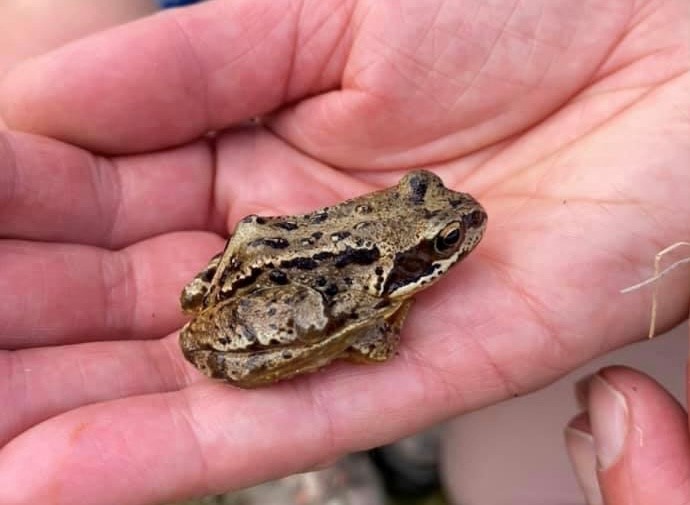 For me, this new hobby is all about creating data for nature. I want to contribute to the evidence that's so urgently needed if we're going to succeed in restoring nature across the UK. One of my key concerns is what happens to the data once I've uploaded it. It's all very well that I can see and enjoy it myself, but I need to know that it's going to be available to anyone who might want to use it. Not just to view online (which all iNaturalistUK sightings are, as a matter of course), but to download and use it, however it may be needed.  
Fortunately, with iNaturalistUK, this is all in progress.  The NBN Trust and partners are working hard to ensure that, wherever possible, data are made available on the NBN Atlas.  For some uses, only Research Grade records will be suitable, while for others all records may be of use. You can read more about iNaturalistUK and its place in biological recording data flow.  
Top tip 2: To make your records as accessible as possible for conservation and research, it's important to select the right licence and, wherever possible, to share a precise location. This is easy to do in your iNaturalistUK settings, and the blogs Licensed to Share! and Location, Location, Location! are a useful read to discover more.  
Of course, as with all online tools, iNaturalistUK has its weaknesses as well as its strengths. The first one that struck me was that it's so dependent on photos. Although it's possible to add a sighting without a photo or sound, it can't be confirmed so will never achieve Research Grade. There's a good reason for this, of course – it's vitally important that those who use the records can trust that they're accurate and reliable. But the disadvantage is that it's extremely difficult to record species that are fast-moving or shy. Not surprisingly, iNaturalistUK is dominated by photos of plants, fungi and the slowest-moving wildlife! 
I would highly recommend iNaturalistUK, though, as a place to get started. It's a fantastic, big, friendly community. And I'm looking forward to taking part in the growing number of special recording projects hosted on iNaturalistUK – from the Natural History Museum's Slime Search (get in quick – it ends on 4 March 2022) to the global City Nature Challenge taking place at the end of April. Watch this space for more.  
Coming next month – upping my skills and getting started on iRecord.