Blog written by Craig Macadam, Conservation Director at Buglife.
As a child I was fascinated by wildlife. Growing up in rural Angus gave me ample opportunity to learn more about the animals and plants that lived with us in the surrounding countryside. Whether it was watching House sparrows in the wheat fields near Inverkeilor, guddling for invertebrates in the Lunan Water, or fossicking in rock pools at Auchmithie, my summers were spent immersed in nature. As a teenager I wanted more. I wanted to connect with other like-minded people. I wanted to share my observations with others. That was in the mid-1980s, before the internet, and I struggled to make those connections.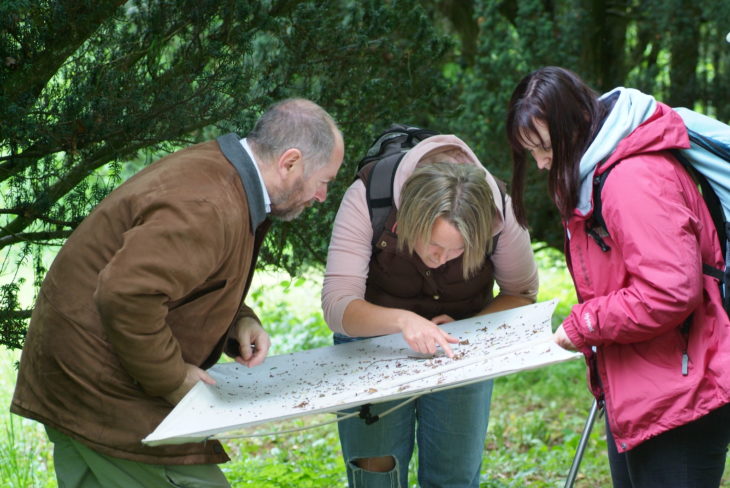 Recording Invertebrates © Graham Burns
By the 1990s I had found BRISC. I'd also moved to Falkirk, where there was an active recording community, supported by CARSE – a local records centre covering the Forth Valley. I had somewhere to share my observations with, I could find out what else had been recorded in the area, and I could meet up with other local recorders. In 1999 the NBN Gateway was born and I now had access to records from across the country. Or did I? I was now predominately recording freshwater invertebrates and became frustrated that information on many of the groups were not being shared and weren't available through local records centres. I joined the committee of BRISC and realised that this wasn't a new observation, indeed they had been highlighting this situation since 1975! Despite the advent of the NBN there had been little progress in Scotland. The BRISC committee were heartened by the situation in Wales where there was a full coverage of record centres, strategically funded by the Welsh Government. This co-ordinated, strategic approach was exactly what was required in Scotland so on behalf of BRISC I raised a petition at the Scottish Parliament to call for a similar approach in Scotland.  
The result of the petition was the Scottish Biodiversity Information Forum. I had the privilege of being the first chair of this new grouping of stakeholders, all with a common purpose – to streamline the process of collecting, analysing and sharing biological records across Scotland and beyond. 
Those early years of SBIF involved a lot of listening, understanding and acknowledging the frustrations of the recording community. I handed over the baton of chairing SBIF to Ellen Wilson and she has done a fantastic job of bringing together all the stakeholders to review the recording structures we have in place at the moment, and put together this plan for how we can improve them. The SBIF Review is a huge credit to the biological recording community in Scotland. Despite their wide and disparate nature, the review process has achieved real consensus amongst stakeholders and I believe the time is now right to take the next step.  
It may have taken us over four decades to get to this stage however I firmly believe that we are now in a position to make the changes that the biological recording community in Scotland deserve. We owe it to those participants at the BRISC conference in 1975, and all those that have followed them since. But more than that, we owe it to nature itself. Unless we record and share details of the wildlife around us we can't expect it to be taken into account in environmental decision making. As the late John Sawyer said "biological records should be a treasure trove not a hoard". Let's make sure that Scotland makes the most of its natural treasures.