Written by Dr Adrian Cooper
Felixstowe's Citizen Science Group was created by members of Felixstowe's Community Nature Reserve in April 2018. Early in 2019, members of Felixstowe's Citizen Science Group decided they wanted to improve. They wanted to learn more, and to work better as a group. In other words, they wanted to become a 'learning organisation'.
What is a learning organisation?
That sounds great, but what is a 'learning organisation'? The word 'learning' means many things to many people. Our first step in becoming a 'learning organisation' was  to decide what we meant by that term. So we talked. We threw ideas around. We drew diagrams. Then we drew more diagrams! It was a thoroughly enjoyable way to begin our journey into understanding what a learning organisation might mean for us. Eventually, we produced a spray diagram which presented an overview of the many different perspectives which we have on 'learning'.  See Fig 1 below: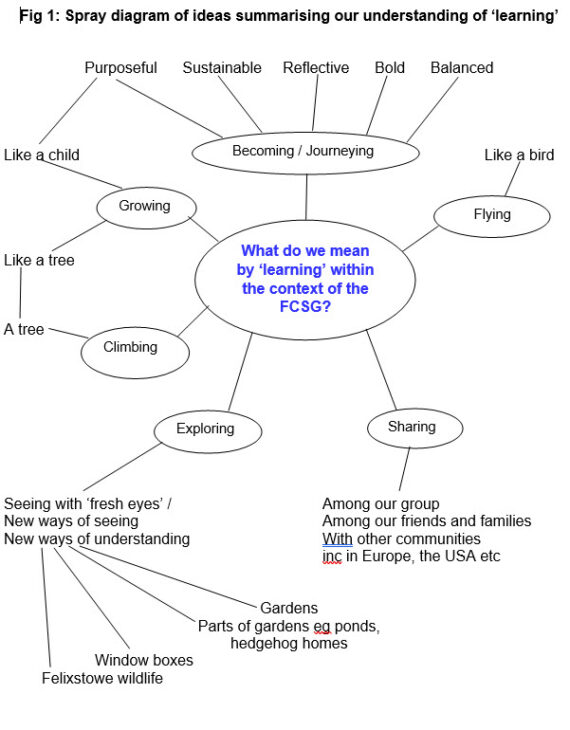 Every month, we intend to re-visit this spray diagram to see how it can be developed. For now though, we use it to define 'learning' as a journey of exploration.
One of the great things about being a community-based citizen science group is the fact that our members can bring so many different ways of thinking about the challenges we choose to face. So, it was fascinating to learn about loop diagrams and how they can help us to define 'learning organisation'. Fig 2 below is what we came up with. To read it, start at the top. FCSG is the initials for Felixstowe's Citizen Science Group. Critical reflection means we think hard about what we do. We challenge our deepest assumptions about what we might think is 'right' or not-so-right for us. Then, just follow the arrows. The + signs show how progress round the loop diagram adds to our learning and reflection. Each time we move round the circle, we think more deeply and critically about what we are doing. New insights become clear. New ways of presenting our work are learned. Overall, it is another set of steps toward our ultimate goal of becoming a learning organisation.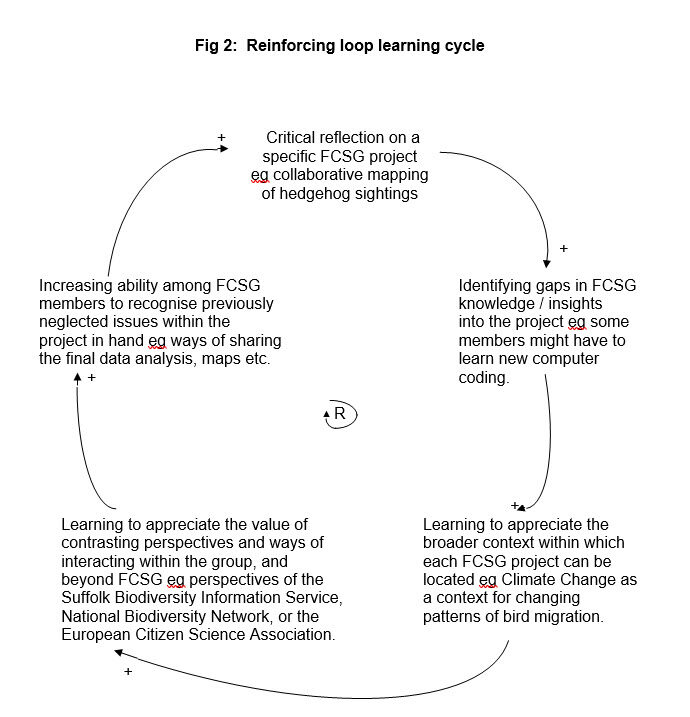 Taken together, these first two diagrams show that, as a community-based organisation, our learning is done together. No one feels isolated from the process. Everyone is involved. We even split up into small groups of no more than seven people so individual members feel more relaxed to share their views than they would in a larger meeting. In those small groups, everyone's views are anonymously recorded and then fed back to the main group by a small-group leader.
Diverse members
One of the best features about our citizen science group is that we have members from many different backgrounds – and not just science! Some of our most insightful members are those who have studied Eastern Philosophy. It is they who so often challenge our most fundamental beliefs about what citizen science is, and how best we can go about doing it! It is also those individuals who often help the rest of us to cut through the multiple perspectives which we have in our group, alongside the multiple ways in which members express themselves, and the further multiple ways in which we establish boundaries, and challenge other boundaries in our thinking.
Another great advantage of having members who have a background in Eastern Philosophy is their ability to remind others who might be impatient for results to slow down. To quote the wisdom from one of our members "Slower is faster in the end" In other words, don't rush your work. Be slow and patient. Reflect! Talk. Share.
Challenging ourselves
Time for another diagram! See Fig 3 below. This one combines a lot of ideas into a single picture. To read it, you should start from the oval shape at the bottom of the diagram. You can then take one or both loops. The great thing about this diagram is the way it takes us – step by step – through the process of gaining new insights. It challenges us to avoid simplistic ideas ie reductionism. It also teaches us to challenge old ideas which might not be what we want any more – ie dogmatism and reductionism. Once again though, the object is to thoughtfully move round each element of the cycle, talking with others, reflecting and learning how to do what we do better. 'Better' is always what we choose to define as better. In doing so, we are making more steps forward in our journey toward becoming a learning organisation.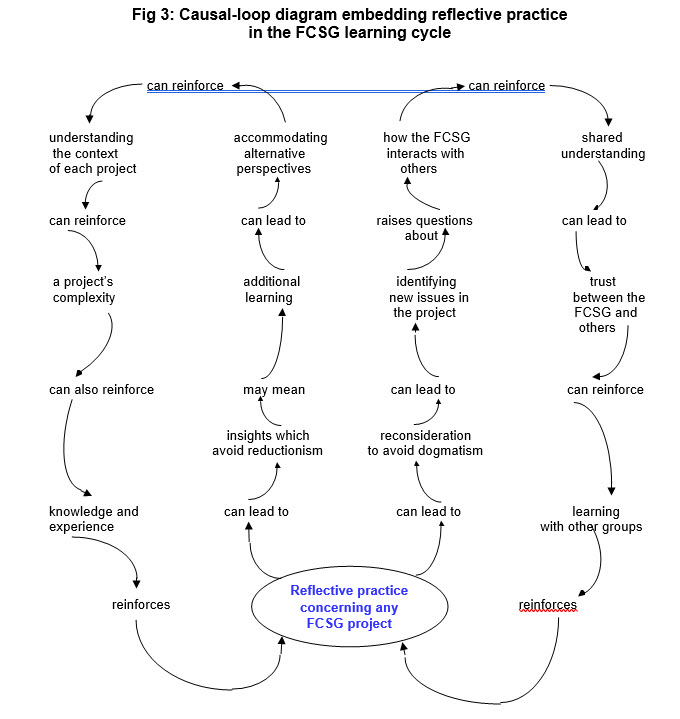 With so many lively and enthusiastic members, it is no surprise when friendly disagreements arise. So far, they have not caused us any difficulty. The way we resolve those discussions is to try and work with one suggestion. Then we try it another way.
A good example of living with contrasting perspectives is in the way some of our members choose to define the aim of our citizen science. For some members, they only want to focus on small areas of habitat such as single gardens or allotments where they want to do their citizen science. Others prefer to do their scientific sampling from across our town. Another set of members look at connections between our local habitats and the part of south east England where we live. Finally, there are others who make their ecological / citizen science connections across a global stage. We can therefore offer another diagram to show how those apparently contrasting ways of thinking can all nest together. See Fig 4 below.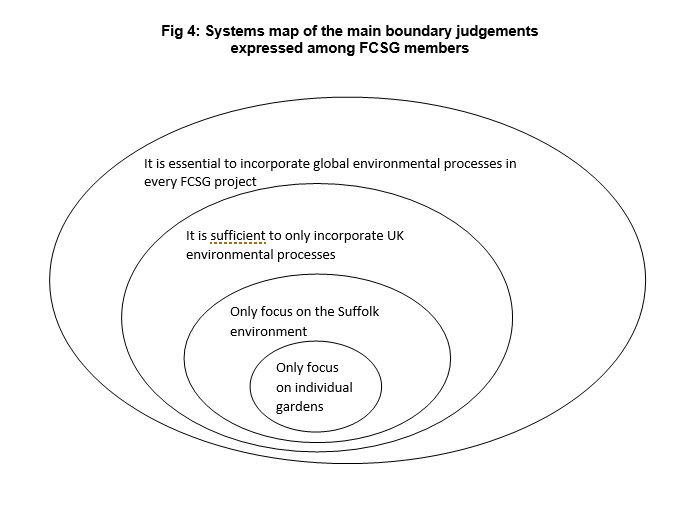 Each month, we re-visit these diagrams. We've drawn them up on large sheets of paper and we attach them to the wall of our meeting room so we can reflect upon them. Each small group is encouraged to go round each of the cycles in each diagram, and to share back to the main group what insights we have arrived at. There's always something new and valuable to learn and develop.
So, are we a learning organisation yet? At the moment, we're not sure. Undeniably, we think we're on the right road, and doing the right thing. When the majority of our members agree that we are truly a learning organisation, that will be the point when we would say we have arrived – or are at least arriving! Meanwhile, the journey is richly rewarding, completely fascinating, often humbling, and frequently fun.
We are therefore happy to share this road which we are on with other community organisations to encourage others to become learning organisations too!