About us
Giselle Sterry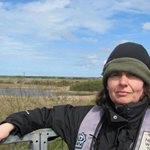 Membership and Business Development Officer
Tel: 0115 850 0174
Email: g.sterry@nbn.org.uk
Twitter: @Giselle_Sterry
Role at the NBN
To develop the NBN Membership and increase funding streams into the Network.
Core work responsibilities
Lead on the recruitment of new supporters and members
Develop income streams and secure increased financial support for the Network and members
Support Network members and manage membership renewal process
Increase awareness of the charity and its aims and objectives
Lead the implementation of the Membership Development scheme
Achievements
Implementation of the revised NBN Membership Scheme in 2017
Instrumental in successful launch of the NBN Atlas
Organised a debate in the House of Lords as part of Nottingham in Parliament Day
Increased membership of the NBN
Re-profiled and controlled the NBN budget by introducing cost savings to deliver a balance budget during 2015/16
Co-organise with the Communication Officers successful NBN Conferences
Attended and supported Board of Trustee and Finance meetings.
Developed the use of social media for the NBN Trust which has led to greater engagement with the Network
About Giselle
In February 2015 I joined the NBN as Business Administrator while Sarah was on maternity leave. Following her return to work in January 2016 the focus of my role has been on growing the Network membership. I covered the finance role again during 2018 /19. I have developed my love of nature over many years and am currently Secretary for Nottinghamshire Wildlife Trust City Local Group and The Nottingham RSPB Local Group. I have developed a keen interest in promoting urban wildlife and have taken part in local 'bioblitz' events and help maintain small urban reserves in my local area. Recently I built a pond in my garden and was thrilled when within days newts and frogs had set up home. It continues to house them and an array of invertebrates.
I have lived in Nottingham for many years since graduating from Nottingham Trent University. A few years ago I was fortunate enough to take a year out to travel and have been lucky enough to see some fantastic wildlife from polar bears in the arctic to elephants on the Zambezi. Despite several attempts I have yet to see the Northern Lights. However its still exciting to see waxwings and hedgehogs a short distance from my front door!
My working career to 2014 was in the social housing sector. Choosing voluntary redundancy late in 2014 allowed me to refocus my career on my interests and use the skills and abilities I have gained to assist NBN and its membership grow and develop.