Record, share & explore data
Control your data
This page describes the online administration tools available to you to enable you to control and change who has access to your data at any time.
You retain ownership and control over any dataset you provide to the NBN Gateway and can choose to withdraw these at any time. The NBN Trust does not control access to any of the data you choose to share.
NBN Gateway Data Provider Agreement
All species datasets are submitted to us under the terms and conditions of the Gateway Data Provider Agreement. This is a formal agreement between you, the data partner, and us, the NBN Trust.
It gives us the permission and assurances we need from you to hold a copy of your dataset and upload it onto the NBN Gateway.
It gives you the assurances that you need from us, including that you retain ownership over, and control the availability to, your datasets.
The agreement is comprehensive and legally necessary to formally authorise the National Biodiversity Network Trust to make your data available via the NBN Gateway. You are asked to confirm that you have read and agree the Gateway Data Provider Agreement at the end of the Metadata Form for Species Datasets.
NBN Gateway Terms and Conditions
A standard set of terms and conditions govern the use of all material made available through the NBN Gateway. The NBN Gateway Terms and Conditions protect the rights associated with your dataset. They are legally binding and establish the terms under which anyone using the NBN Gateway may access and use the data you make available to them.
We are confident that the NBN Gateway Terms and Conditions effectively address the concerns and requirements of most data providers. However, if you feel the data you supply require more protection, you are able to add Additional Terms of Access.
How to implement Additional Terms of Access
Additional Terms of Access are to be provided in the Use Constraints field of the dataset metadata. This should be done as part of populating metadata to support your dataset.
Data Licenses
You can also assign a creative commons license to your dataset, making it much clearer for users to interpret which data they can use. The type of data licence assigned can be found in the dataset metadata and within any data download.
The available data licences are CC0, CC-BY, CC-BY-NC, and OGL.
CC0: 'No rights reserved' licence. All data is in the public domain
CC-BY: This license allows others to use data, even commercially, as long as the original data creator is credited.
CC-BY-NC:This license allows others to use data only for non-commercial purposes. The original data creator must be credited.
OGL: Open government licence.
Links:
Controlling access to your data
A robust framework of Data Access Controls have been developed for the NBN Gateway. You can use these to manage the level of access that different users have to your data.
If you feel it is necessary, you can limit public access to your dataset by blurring resolution to 1km, 2km or 10km squares and by concealing recorder and determiner names and other details about the record.
You can then use the Access Controls to supply full details of some or all records in the dataset to selected organisations or individual users.  There is a separate control enabling you to grant or withhold access to records which you have flagged as sensitive.
In deciding whether or not to restrict access, it is desirable to begin from an open position and then identify any parts of the data that really need to be restricted.
The NBN advice note on Managing Access to Wildlife Data will help you establish a consistent and logical approach to managing access to data responsibly. If you decide that there are constraints affecting the level at which you are able to share some of your data you can limit their availability using the NBN Gateway access controls.
Resources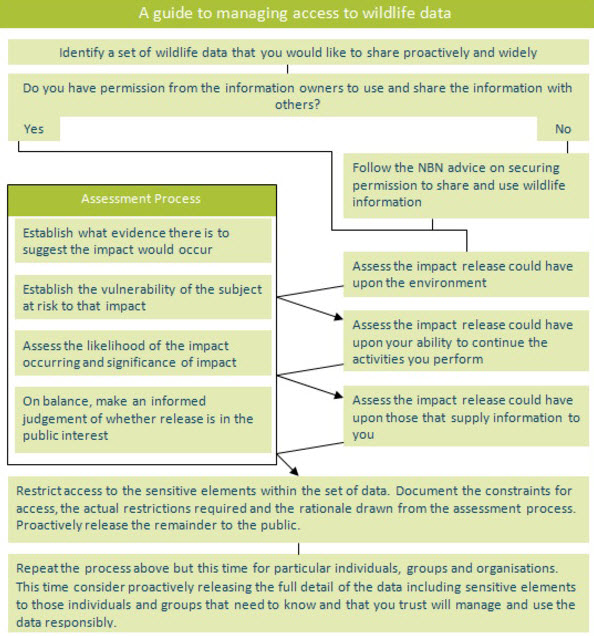 Slideshow Guide to the Access Controls (v2)
Summary of changes to Data Access Controls (3)
NBN Gateway Terms and Conditions