Record, share & explore data
Guidance for using data
The NBN Gateway is a resource that we want to be used.  It provides a secure environment in which data providers can manage how they share their data.
However, most data providers are not under any obligation to share data via the NBN Gateway and if they believe that doing so could result in environmental damage or undermine their ability to fund their operations, they could withhold or withdraw data.
For this reason, it is a fundamental feature of the NBN that data providers retain ownership and control of their data and also that they are acknowledged and receive proper credit when their data are used in reports or documents. Without our data partners the NBN Gateway couldn't exist so we take this seriously.
Here you can find guidance for using biological data made available via the NBN Gateway.
General guidelines
Access to and use of material accessed through the NBN Gateway is governed by the NBN Gateway Terms and Conditions.
You must only publish the level of detail that a public user has to the records on the NBN Gateway. This is the level of detail you have without logging in to the site. If (as a registered user) you are granted enhanced access to restricted information you must not disseminate, deliberately compromise or otherwise infringe the confidentiality of such information without first obtaining written permission from the relevant data provider.
You must acknowledge the relevant data providers that are sharing their records with you through the NBN Gateway. In addition, where you make specific use of or reference to a particular wildlife record you must acknowledge the Original Recorder [where their name is made available]. We would also like you to acknowledge the NBN Gateway.
Any document or product that makes use of data from the NBN Gateway must contain a statement that the Data Provider, Original Recorder [where identified], and the NBN Trust bear no responsibility for any further analysis or interpretation of that material, data and/or information.
Using the data commercially
If you intend to use data commercially, you must seek written permission from the data provider.  Data use of this type would include data provision and interpretation services, including professional data services provided to paying clients by private sector organisations such as ecological consultants.  These services would include:
desk studies for Environmental Impact Assessments
extended Phase I ecological surveys
agri-environment application surveys
You will need to contact each data provider individually to get this permission.  Contact details can be found by clicking on the dataset provider organisation information on the NBN Gateway.
If you try to download the data you will be informed of this requirement as soon as you enter the type of use you are downloading the records for, as shown by the red text in the screen shot below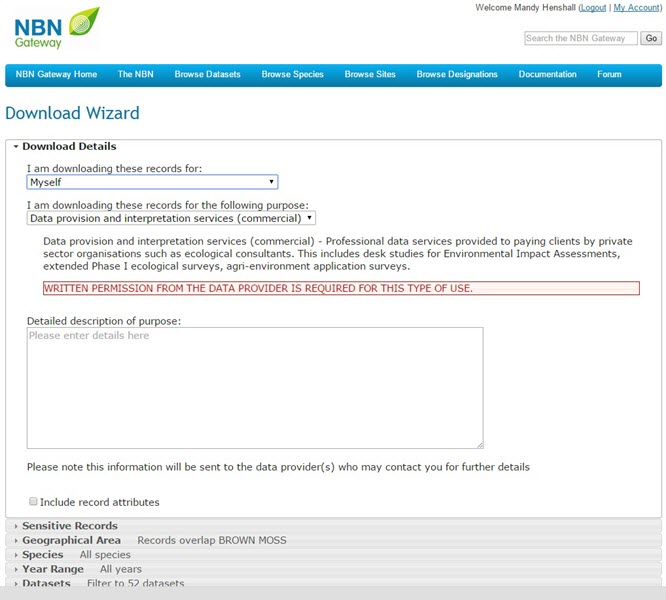 The reason for these conditions in relation to commercial use is that you may not make any financial profit from use of the material, data and/or information on the NBN Gateway or from any products you derive without first obtaining written permission from the relevant Data Provider.
A data download is not evidence of data 'misuse' or even of intention to 'misuse' data.  However, we continue to take seriously proven contraventions of the NBN Gateway Terms and Conditions, such as a report that contains data from the NBN Gateway without permission, acknowledgements or a waiver statement.
How do I know which data I can use?
You may not have full access to all the datasets relating to a specific query. Your level of access is always shown in the list of datasets that the query returns. It is worth seeking improved access by selecting the relevant datasets and then clicking to request improved access.  
Use of material accessed through the NBN Gateway is governed by the NBN Gateway Terms and Conditions. Please see the 'Use of material, data, and/or information' section of the Terms and Conditions for more information.
Some datasets are assigned with creative commons license.  This makes it much clearer for you to interpret which data you can use.  A data licence outlines under what circumstances the data can be used. The type of data licence assigned can be found in the dataset metadata and within any data download.
The available data licences are CC0, CC-BY, CC-BY-NC, and OGL.
CC0: 'No rights reserved' licence. All data is in the public domain

CC-BY:

This license allows others to use data, even commercially, as long as the original data creator is credited.

CC-BY-NC:This license allows others to use data only for non-commercial purposes. The original data creator must be credited.

OGL: Open government licence.
You can also refer to the dataset metadata for full information on access rights.
You can find further detailed information on using data from the NBN Gateway on the following pages:
Using and referencing data from the NBN Gateway