About us
Christine Johnston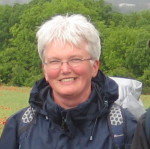 Scottish Liaison Officer
Tel: 07342 254589
Email: c.johnston@nbn.org.uk
Twitter: @mapmaker10
Role at the NBN
Christine's role is to act as the principal contact between the NBN Secretariat and Network members, data partners and data users in Scotland. It also includes working across the NBN assisting with data provision and data use issues, helping to maintain the NBN's suite of data standards and tools, working towards increasing the openness of NBN data holdings, and supporting Network members in all stages of the Data Flow Pathway.
Core work responsibilities
Assist with the development of the Atlas of Living Scotland, and the other Atlas projects
Work with NBN members across Scotland on other partnership projects
Support implementation of the Data Flow Pathway in Scotland
Support members throughout Scotland in partnership with the Scottish Biodiversity Information Forum (SBIF) Advisory Group
Support the implementation of the NBN Strategy 2015-2020
About Christine
Graduating from Glasgow University with a BSc in Geography and a Postgraduate Diploma in Cartography, Christine initially worked for several map publishers in southern England before returning to Scotland to work as Cartographic Editor on the Times Comprehensive Atlas for Bartholomew in Edinburgh. When Bartholomew moved to Glasgow, Christine left and set up her own freelance business working primarily on travel guides and atlases. Later she worked as an Editor for a diary publisher and then as a Publishing Project Manager for Elsevier.
Following redundancy in 2009 Christine returned to full-time education, graduating in 2010 with an MSc in Geographical Information Science from Edinburgh University. She started volunteering at The Wildlife Information Centre (TWIC), her local environmental records centre, in 2011 and in 2012 was employed by TWIC as part-time Data Processor, working with both species and habitat data. In 2013 she became Co-ordinator of the Scottish Biodiversity Information Forum, also based at TWIC, a role that has now transferred to the NBN Trust becoming Scottish Liaison Officer.
In her spare time Christine likes to get out walking or cycling, and to spend time in her garden. She also enjoys weaving baskets and has just planted her own small willow bed. For several years she has volunteered with different local conservation groups, from which her interest in biodiversity has developed.
Presentations
The NBN: data sharing & the NBN Atlas; Atlas of Living Australia technologies (MERIT and BioCollect) – 20th April 2017, Scottish LBAP Officers meeting, Kilwinning
The NBN: data sharing from the national perspective – 11th March 2017, 1st Where's Wildlife in Ayrshire Recorders Day, Kilwinning
The NBN Atlas: a new open data infrastructure for data sharing – 29th November 2016, Orkney Recorders open meeting, Kirkwall
Atlas of Living Scotland: mapping and analysis functions – 14th July 2016, contribution to meeting to discuss MERIT and BioCollect, SNH, Edinburgh
New Open Data Infrastructure for Promoting Biodiversity and Data Sharing – 7th May 2016, 9th Tayside Recorders Day, Perth
Getting Involved in the Life Sciences – bringing Ecology to the Citizen – 28th April 2016, Edinburgh University Citizen Science and Crowdsourced Data and Evidence Network Seminar,  Edinburgh
Sharing Biodiversity Data through the National Biodiversity Network –  20th April 2016,  ESCom: Ecosystems Services Community Scotland, 3rd Annual Conference, Edinburgh
Publications
The Atlas of Living Scotland: new open data infrastructure for research and citizen science, Porcupine Marine Natural History Society Bulletin Autumn 2016 (p27)
The National Biodiversity Network (NBN) Atlas of Living Scotland, International Association for Landscape Ecology Summer 2016 Newsletter
Scottish Biodiversity Information Forum update, Dumfries & Galloway Environmental Records Centre 2015 wildlife review, May 2016 (pp8-9)
The Atlas of Living Scotland – Summary (May 2016), Tayside Recorders Bulletin 2016