About us
Reuben Roberts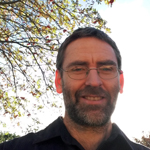 NBN Systems Developer
Email: r.roberts@nbn.org.uk
Role at the NBN
Reuben's role is to take the lead in the design, development, testing, implementation and ongoing support and maintenance of the NBN's data sharing infrastructure the NBN Atlas.
He is also involved in liaising with our users, primarily by phone or email and providing technical advice and support to the NBN Secretariat team.
Core work responsibilities
Development of the NBN Atlas infrastructure – based on the Atlas of Living Australia's open source software and developed by CSIRO
Providing guidance and advice to other members of the NBN Secretariat regarding technical aspects of the NBN Atlas
Building relationships with developers in our partner organisations and the wider NBN Atlas development community, including in other countries
Develop solutions to delivery problems
Develop high quality software specifications, project plans and documentation
Providing support for the wider work of the NBN Secretariat as required
About Reuben
I graduated from the University of Cape Town (South Africa) in 1995, with what was then considered a slightly odd degree in Botany and Computer Science. I enjoyed growing bonsai trees and writing computer games, so it seemed a natural combination to me at the time!
Since then, I have worked in a range of conservation-related sectors, including climate-change modelling, reserve management, botanical collections management and environmental impact assessment.
Over the years, I have been involved in the design and development of a range of tools for gathering and sharing biodiversity data. I am enthusiastic about systems that support environmental research and decision-making, and I am looking forward to working on the NBN Atlas and helping to ensure it meets the needs of all its users.
I currently live in Shrewsbury with my wife and two small children, having relocated from South Africa in 2017. We are enjoying discovering the countryside and smaller-town life in general.