About us
Justin Dee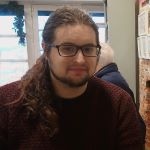 NBN Atlas Systems Developer
Email: j.dee@nbn.org.uk
Role at the NBN
Justin's role is to support the design, development, testing, implementation and ongoing support and maintenance of the NBN's data sharing infrastructure the NBN Atlas.
He is also involved in providing technical advice and support to the NBN Trust Secretariat team.
Core work responsibilities
Development of the NBN Atlas infrastructure – based on the Atlas of Living Australia's open source software and developed by CSIRO
Providing guidance and advice to other members of the NBN Trust Secretariat regarding technical aspects of the NBN Atlas
Develop solutions to delivery problems
Develop high quality software specifications, project plans and documentation
Providing support for the wider work of the NBN Trust Secretariat as required
About Justin
I've been involved in conservation from a young age via my parents, some of my fondest memories are of 'assisting' my father with BTO surveys. I graduated from Lancaster University in Computer Science in 2013, and subsequently worked for several companies in the marketing and bespoke software industry.
While these roles were excellent in terms of experience, I knew I wanted to work in a sector where I felt I was actually contributing to a worthwhile cause. I'm very excited to now have that opportunity and combine my professional experience with my love of nature at the NBN Trust.
Outside of work, I'm an avid fan of modern board games, always looking forward to visiting my friends for a good board game weekend. I'm also a bit of a foodie, whether it's checking out a new restaurant or having a go at making something fancy myself!